Brazilian Defense Minister Raul Jungmann warned on Wednesday that his country must prepare itself for a mass influx of refugees as political upheaval in Venezuela continues to worsen.
"Evidently we are worried and our biggest concern is the humanitarian situation," Jungmann told reporters. "We need to have a contingency plan in place to handle this if things get worse."
Some 6,000 Venezuelans cross the border into Brazil every day looking to purchase food and medicine, and while most return, an increasing number have opted to stay and look for work.
Last month, Brazilians reported seeing Venezuelan women and children begging on the streets of Manaus, Brazil's largest city in the Amazon region (pictured below).
The government for the border state of Roraima has indicated that some 30,000 refugees had arrived since Venezuela economic and political became particularly acute last year. Federal police, meanwhile, estimate that the number of Venezuelan migrants living in Roraima's capital Boa Vista to be over 15,000.
Roraima state Senator Telmario Mota told Reuters that many of the migrants seeking employment in Boa Vista were being exploited, while young women were being forced into prostitution.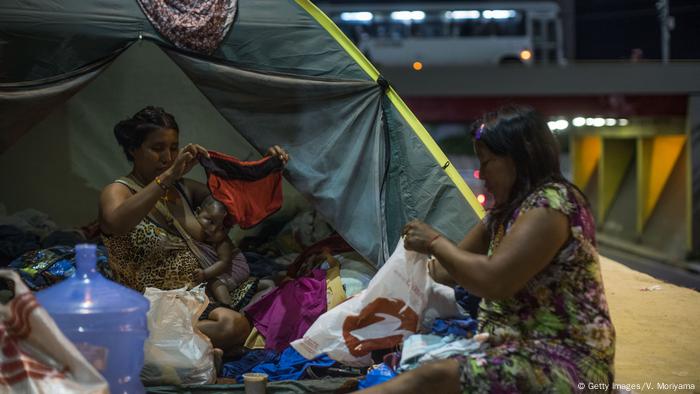 Migrants from Venezuela have been living out of tents pitched in public squares
Meanwhile, a visit by the United Nations High Commission for Refugees to Boa Vista reported that 6,000 Venezuelans were being housed in shelters, while a further 5,000 were on a waiting list.
A UNHCR spokesman said: "We are here to familiarize ourselves with the situation, see the local response capability and help prepare to receive an influx of people if that were needed."
Jungmann has also vowed to help mediate the crisis in Venezuela. In a "gesture of goodwill," Brazil would be sending back its ambassador to Venezuela, he said, after having decided to withdraw its envoy amid a political row.
Venezuela paralyzed by protests
Political unrest in Venezuela erupted on April 1 as government opposition groups responded angrily to a Supreme Court decision to strip the legislative branch of its power. Detractors of Venezuelan President Nicolas Maduro say the decision was a blatant power grab by the president and his allies.
Maduro later reversed the decision amid increasing unrest, but protests have continued with demands for fresh elections in part due to complaints about Venezuela's desperate economic situation.
While the protests have served as a vehicle for voicing government disapproval, they have repeatedly escalated into violence and looting, with security forces firing tear gas, water cannons or rubber bullets into the crowds in response.
Alongside the reported 43 deaths, most of whom were young men shot at protests or killed during looting, hundreds more have also been injured.
Comparison made with Syria
During a special UN Security Council meeting Wednesday on the crisis in Venezuela, US Ambassador Nikki Haley warned that "we've been down this road - with Syria, with North Korea, with South Sudan, with Burundi, with Burma."
Venezuela, Haley said, was "on the verge of humanitarian crisis," adding that Maduro had to respect the human rights of his people if he wanted to avoid the crisis from escalating into a civil conflict.
Venezuela, along with allies Bolivia and Uruguay, dismissed the Security Council meeting as "outside interference," although Haley maintained that the US was not looking to the council to sanction any form of intervention.
"What we are looking for is for the Security Council to notice exactly what the situation is ... be cautious in this area and know that we need to be watching it," she said.