Protesters staged sit-ins and roadblocks across Venezuela on Monday in a bid to pressure embattled President Nicolas Maduro to hold elections.
Using branches, rocks, trash and deck chairs, thousands of people gathered on major highways in Caracas and elsewhere, chanting slogans and waving banners saying "Resistance!" and "Maduro, Your Time Is Up!"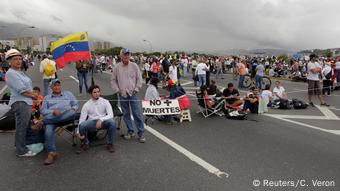 Opposition supporters in Caracas held a placard that read: 'No more deaths'
While demonstrations in the capital remained largely peaceful, rallies in other parts of the country descended into violence.
In the volatile western state of Tachira, near the border with Colombia, at least two men - Luis Alviarez, 18, and Diego Hernandez, 33 - were reported killed in clashes with security forces.
In the central state of Carabobo, authorities said three police officers had been injured, including one left in a critical condition.
More than three dozen people have been killed, hundreds injured and as many as 2,000 detained in nearly seven weeks of protests.
Stalemate
Venezuela has been gripped by soaring inflation and severe shortages of basic food and medical supplies, as its economy slips into ruin.
The opposition blames the socialist government, and has vowed to continue with near-daily demonstrations until Maduro holds an immediate presidential vote. They have also demanded the release of jailed activists, foreign humanitarian aid to offset the economic crisis and autonomy for the opposition-controlled legislature.
Maduro, for his part, has shown no sign of conceding to their demands. He has pledged to resolve the nation's woes by convening a special assembly to rewrite the constitution - a move his opponents see as an attempt to buy time and cling to power.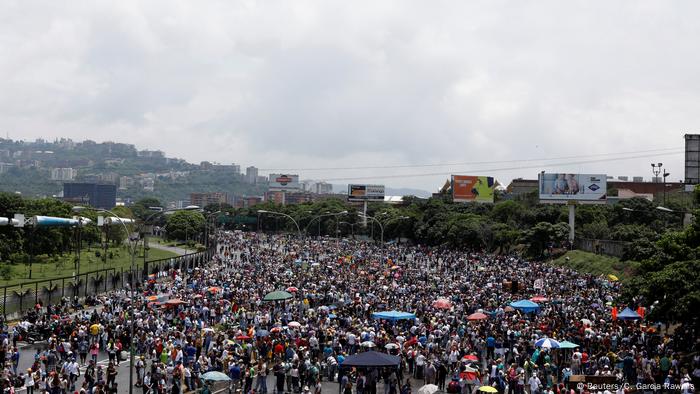 Opposition supporters blocked a main highway in the capital, Caracas, during a rally against Maduro
Growing pressure
Maduro, who narrowly won the election in 2013, says he is the victim of an international right-wing conspiracy that has unseated leftist governments in Brazil, Argentina and Peru in recent years.
Last month, he announced that Venezuela would be leaving the Organization of American States (OAS), which seeks to defend democracy in the region, accusing the body of trying to remove him from power and meddle in domestic affairs.
The OAS on Monday voted to hold a rare foreign ministers' meeting later this month to discuss the South American country's political crisis.
Meanwhile, the European Union has called for Maduro to hold elections and warned that "violence and the use of force will not resolve the crisis in the country."
nm/cmk (EFE, AP, Reuters, dpa)