At a critical point early in his presidency, US President Donald Trump and Chinese President Xi Jinping finished their two-day meeting Friday with a new path forward on trade talks.
US Commerce Secretary Wilbur Ross said China was interested in reducing its trade surplus with the US as a way to control its own inflation.
"That's the first time I've heard them say that in a bilateral context," said Ross.
Xi and Trump agreed to a 100-day plan for trade talks to increase US exports to China and to reduce the US trade deficit. It is unclear when the talks will take place.
Change of tone
The results of Xi and Trump's meetings on Thursday and Friday show a stark change in attitude between the two countries, especially from the American leader. Trump strongly criticized China's trade policies and trade surplus over the US throughout the presidential campaign and into the early days of his presidency, going so far as to sign an executive order to investigate the trade deficit with China last month.
The past two days saw "frank, candid open talks; the atmosphere and chemistry was positive," according to US Secretary of State Rex Tillerson. Trump and Xi were in agreement.
Trump said the US "made tremendous progress in our relationship with China" at the conclusion of the two-day meeting
"We have made tremendous progress in our relationship with China," said Trump. "We will be making additional progress. The relationship developed by President Xi and myself I think is outstanding."
Xi agreed with his US counterpart. "We have engaged in deeper understanding, and have built a trust," said Xi. "I believe we will keep developing in a stable way to form friendly relations…for the peace and stability of the world, we will also fulfill our historical responsibility."
Xi offered Trump to visit China later this year, which Trump accepted. No date was set for the trip.
The two leaders vowed to work more closely to get the North to abandon its nuclear weapons
The official China Daily newspaper cheered the meeting, saying it was "going as well as it could" after "confusing signals" from Washington, referring to Trump's verbal attacks over the past two years.
"This may sound surreal to those preoccupied with an 'inescapable' conflict scenario between what they see as rising and incumbent powers," the newspaper wrote in an editorial. "But that Beijing and Washington have so far managed to do well in preventing conflicts shows confrontation is not inevitable."
China's state media, however, didn't comment on the US missile strike on a Syrian military base, which occurred during the summit meeting.
North Korea, Syria on the agenda
The two leaders also discussed the situations in North Korea and Syria.
China is the sole political ally to North Korea, its northeastern neighbor. North Korea has repeatedly tested nuclear weapons in recent years, a move that the US strongly opposes. Trump stated Sunday that if China does not work to end the nuclear weapons program in North Korea, the US will do it alone. While China pledged more support to bring the rogue state's nuclear ambitions to an end, Tillerson said the unilateral policy still stands.
"We would be happy to work with them," Tillerson said of the Chinese leadership. "But we understand it creates unique problems for them and challenges and that we would and are prepared to chart our own course if this is something China is just unable to coordinate with us."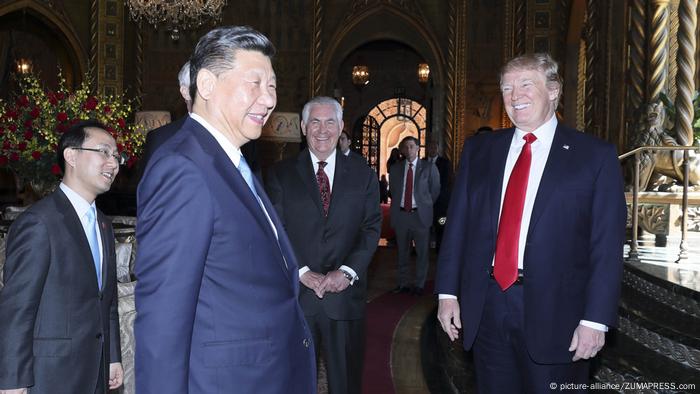 Trump dropped his anti-China bluster, hailing an "outstanding" relationship with Xi
The US launched Tomahawk missiles at a Syrian airbase early Friday morning in an apparent retaliation for a poison gas attack that killed at least 70 people in rebel-held territory on Tuesday. The US, Germany and France said the attack was carried out by the Syrian government.
Trump told Xi about the missile attack as they finished dinner Thursday evening. Secretary Tillerson said Xi understood the response due to the deaths of children caught in the ongoing conflict in Syria.
kbd/bik/kl (AFP, AP, dpa, Reuters)