Zhanna Nemtsova, 31, said she hoped the award would motivate Russians, adding that "it's worth continuing the fight, that we shouldn't give up."
Polish President Bronislaw Komorowski said the award was "dedicated to all the Russian patriots who believe that a larger and more beautiful Russia does not need to be a country feared by the entire world," reported AFP news agency.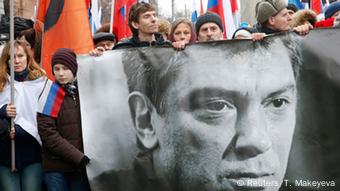 People marched in the streets to commemorate the slain opposition politician Nemtsov after he was assassinated
The Solidarity Prize was named after the trade union launched by anti-communist icon and former Polish President Lech Walesa.
The award was set up in 2014 to mark the 25th anniversary of Poland's semi-free elections in 1989, signaling the end of communism across the Soviet bloc. The award includes 4 million zlotys ($1.1 million).
Nemtsova, a former journalist at Russian business news channel RBK, left Russia in June after her father was assassinated in Moscow.
Nemtsov, a popular Russian opposition politician and critic of President Vladimir Putin, was shot dead by unknown assailants near the Kremlin on February 27.
Nemtsova currently works for Deutsche Welle.
ls/jil (AP, AFP)