The NATO summit opened with alliance chief Jens Stoltenberg and Polish President Andrzej Duda addressing the public in Warsaw on Friday.
NATO members are to discuss a response to what they see as aggressive Russian actions in Eastern Europe, specifically in Ukraine. Poland and other eastern NATO members have demanded more NATO involvement close to Russian borders.
On Friday, Stoltenberg said NATO had stepped up its capabilities in response to the alleged Russian threat.
"We have launched a wholesale reform and reinforcement to our collective defense and deterrence - the biggest since the end of the Cold War," he said. "The NATO response force is now three times bigger, with a brigade-sized spearhead force at its core, able to move within days."
Cold War to 'stay history'
Tensions between Russia and the West have skyrocketed in the past two years, with both sides holding large military maneuvers. Moscow and the alliance traded blame for the escalation.
During the two-day summit in Warsaw, NATO members will decide on placing four battalions in Poland and the Baltic countries neighboring Russia as part of the largest military buildup on the alliance's eastern flank in decades.
In his opening statement, Stoltenberg said NATO "does not seek confrontation."
"Russia is our biggest neighbor and the integral part of European security," he said, adding that the alliance would continue dialogue with the Kremlin.
"We don't want a new Cold War," Stoltenberg said. "The Cold War is history and should remain history"
In response to NATO expansion, Russian officials often cite a 1997 agreement in which NATO pledged not to create permanent bases in former Eastern bloc states. US officials, however, claim that the troops would be rotated rather then stationed permanently.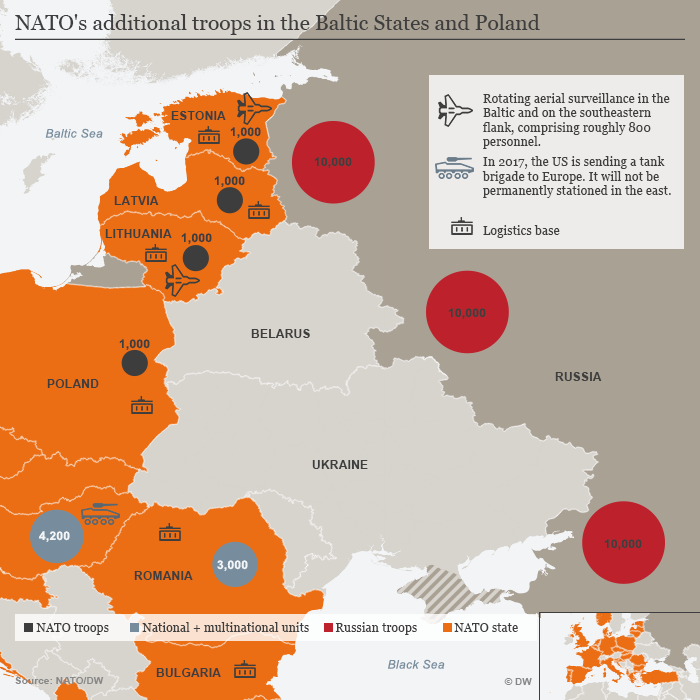 Law of force
Stoltenberg said NATO would "project stability," including in countries that have been confronted by Russia.
"We will also affirm our commitment to our partners in the east, to Ukraine, Georgia and the Republic of Moldova, to help them resist outside pressures, and advance reform," Stoltenberg said.
Addressing the guests in Warsaw, Polish President Duda also called for "deepening relations" with those countries and establishing "an enhanced presence in Eastern and Central Europe."
"Together we have to ensure that anyone who - if only for a moment - is tempted to apply the law of force would come to understand very quickly that is simply does not pay off," Duda said.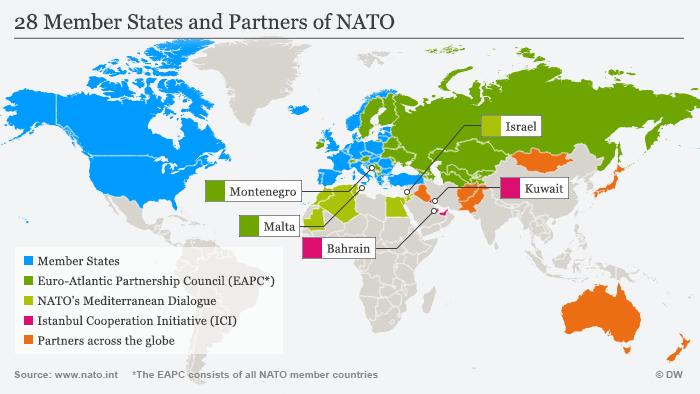 Kremlin's two faces
German Defense Minister Ursula von der Leyen backed deployment in Eastern Europe on Thursday.
Von der Leyen told German public broadcaster ZDF that it was "important that NATO deploys with such strength that it's clear nobody can see an advantage in attacking this military alliance."
At the same time, NATO should deal with Russia "consistently, calmly and soberly" and signal Moscow that it has nothing to fear from the alliance, she added.
This twofold approach corresponds with a two-tier Moscow policy, von der Leyen said. The Kremlin actions can be "completely unpredictable and aggressive," but there is also a Russia that cooperates on the crisis in Iran and Libya, von der Leyen said.
The two-day summit will be attended by a wide array of world leaders, including US President Barack Obama, German Chancellor Angela Merkel and Turkish President Recep Tayyip Erdogan.
In addition to Russia, the member countries are expected to discuss topics like anti-terrorism efforts in Iraq and the rest of the Muslim world, the mission in Afghanistan, and defense spending, but also Brexit and cooperation with the European union.