NATO and Russia will hold formal talks shortly after a summit meeting of the alliance in Warsaw this week.
The alliance members are expected to endorse the largest military build-up since the end of the Cold War, in response to heightened Russian aggression, particularly in Ukraine.
NATO Secretary General Jens Stoltenberg noted that Moscow forcefully annexed the Crimea in 2014 and has aided, if not instigated, a deadly separatist movement in eastern Ukraine.
The two sides met in April, for the first time since June 2014, when relations were put on ice over "profound disagreements" with Russia over Ukraine and other issues.
"The NATO-Russia Council has an important role to play as a forum for dialogue" and could "increase predictability," Stoltenberg told reporters in Brussels ahead of the two-day summit starting on Friday.
"That is why we are working with Russia to hold another meeting of the council shortly after the summit," he added. The two-day summit will start on Friday.
NATO had sought another meeting with Russia before the summit but it was rejected by Russia.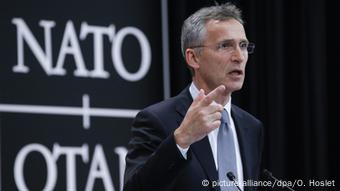 Secretary General Stoltenberg at a recent press conference
"We were ready to have a meeting before the summit but to be honest it doesn't matter that much whether it is before or after," Stoltenberg said. "The important thing is that it takes place."
On the agenda
The meeting is expected to address "risk reduction, transparency and predictability," he said. These issues have come to the fore after Turkey shot down a Russian war plane in November, as it traversed the Turkish-Syrian border. In another incident, a Russian fighter jet buzzed a US warship in the Baltic Sea in April.
Russia has reacted angrily to the NATO build-up, with President Vladimir Putin accusing the alliance of provoking an arms race.
The Kremlin is also furious over NATO expansion into the former Soviet bloc, which since 1999 has seen 12 nations join.
More recently NATO began ongoing troop rotations through Poland and the Baltic states. The move comes in response to Russia's military actions in Ukraine, but has angered Moscow nonetheless.
Russia is deploying more of its own troops on its side of the border.
Russia's increased military action has made neutral Finland nervous, and caused it to ponder joining NATO, which is also vehemently opposed by President Validmir Putin.
Finland will attend the summit as a very close partner of the alliance.
Asked about a possible Finnish membership, Stoltenberg said it was "up to the Finns to decide" and added that it was "absolutely unjustified if that provokes reaction."
bik/kms (AFP, dpa)