NATO needs to show a strong military presence on its eastern flank, Merkel told lawmakers in Berlin on Thursday.
Moscow had caused a loss of trust with the West by putting "the validity of law and the inviolability of frontiers" into question, the chancellor said.
"In the east, Russia has deeply unsettled our allies by its actions in Ukraine," Merkel said. "They now need a clear reassurance through the alliance," she added, urging "visible and reliable" solidarity with other NATO members.
The speech comes ahead of a large NATO summit in Warsaw, where the member states are expected to approve the largest military buildup in Eastern Europe since the end of the Cold War. Germany is set to coordinate a NATO force of about 1,000 soldiers in Lithuania starting next year.
Berlin is also set to boost its defense spending, aiming for the NATO guideline of 2 percent of the national BDP.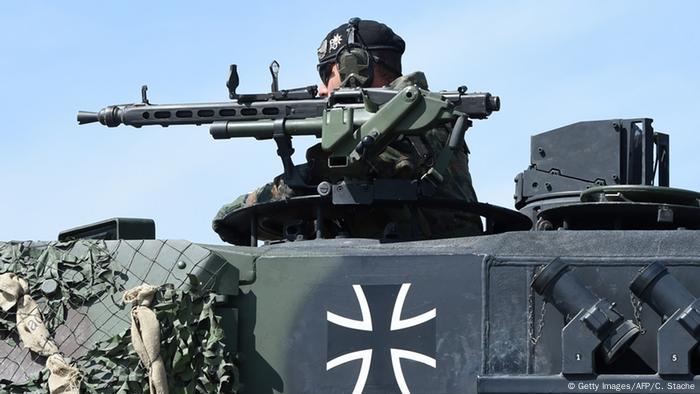 German army is to play a key role in the NATO build-up
NATO's door still open
In her address, Merkel thanked the United States for "taking on the main burden" of NATO deployments around the world. She also praised the expansion of NATO to the east, which should see Montenegro join the alliance soon.
Ukraine and Georgia have also asked for the alliance's protection against the perceived threat from Russia.
"We are not closing the door," Merkel said, without naming future NATO members.
Merkel called for both "deterrence and dialogue" in dealing with Moscow, adding that "they are not contradictions: They are indeed inseparable."
Merkel also stressed that "security in Europe can only be accomplished with Russia and not against it."
Guarding the nuclear balance
Among other challenges facing NATO are the "Islamic State," large numbers of refugees and security trouble in Iraq, Merkel said.
Specifically, Merkel mentioned Iran and its ballistic capabilities in relation to a US-sponsored anti-missile shield in Eastern Europe. The shield has been another source of conflict between Washington and Moscow, with the Kremlin accusing the US of trying to diminish Russia's nuclear capabilities.
Merkel said the anti-ballistic system was "purely defensive."
"It is not directed against Russia, and it does not affect the strategic balance, and this government has no intention of changing it," Merkel said.