Rescuers were deployed to 39 distressed boats on Monday, Italy's coast guard said, describing how one of its vessels had picked up 725 migrants on a single rubber boat.
The migrant vessels included five converted fishing boats and two rafts, with the remainder being overcrowded rubber dinghies.
About 10 Italian military and coast guard boats, along with ships from humanitarian organizations and the EU's border agency Frontex, took part in the rescue operations, most of which took place roughly 48 kilometers (30 miles) off the Libyan coast.
Observers said calms seas after days of rough waters had prompted smugglers to launch dozens of boats crowded with migrants into the Mediterranean Sea.
At least nine migrants died, and a pregnant woman and a child were airlifted to a hospital on the Italian island of Lampedusa.
Close to 200 minors were among the 725 rescued from one dinghy, according to the non-governmental organization SOS Mediterranee.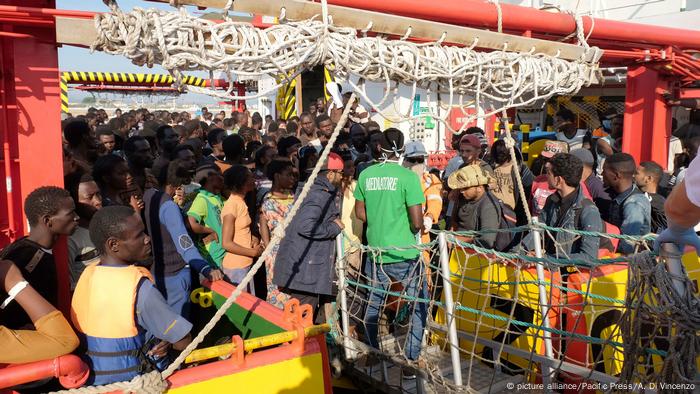 Some 132,000 migrants have landed in southern Italy since the start of 2016
Monday was the third anniversary of the much-publicized sinking of a migrant boat off Lampedusa in which 386 people died, an event that first alerted the world to the Mediterranean migrant crisis.
A commemorative march was held on Lampedusa on Monday, with 200 youths from all over Europe and relatives of some of the victims taking part.
The latest migrants will add to a total of some 132,000 people who have landed at Italy's southern ports since the start of the year.
The new arrivals are mostly Africans trying to get to northern Europe, who are often obliged to seek asylum in Italy where reception centers have been strained to the bursting point.
mm/cmk (AFP, AP, Reuters)