Belarusian Defense Minister Andrei Ravkov recently signed a bilateral military cooperation agreement in Riga with NATO member Latvia. Belarus also signed similar agreements with Poland and the United States in October, and had already signed one with Lithuania in December 2015.
"Military cooperation between Minsk and NATO states is something to be welcomed," the Belarusian political scientist Roman Jakovlevski told DW. He explained that the agreements with Latvia, Lithuania and Poland, member states of both the European Union and NATO, were particularly important for Minsk as they share a 1,250-kilometer (780-mile) border with Belarus.
Jakovlevski said that Minsk has been a participant in NATO's "Partnership for Peace" program (PfP) since 1995. Furthermore, non-military cargo destined for the International Security Assistance Force in Afghanistan (ISAF) has been transported across Belarusian territory since 2011. Jakovlevski pointed out that Belarus also cooperates with NATO on a cadet exchange, joint inspections of military units, and the observation of maneuvers. After all, Belarusian soldiers also participate in peacekeeping operations, provided they have a UN mandate.
Military agreement with Russia
The military cooperation agreements with the NATO states would contain customary obligations – "but they're attracting particular attention at the moment," Jakovslevski said. This is primarily because of the tensions arising from Russian actions in Ukraine and Syria; secondly, because Minsk is in a military alliance with Moscow, and the Kremlin believes NATO is threatening Russian interests.
Jakoslevski said that the cooperation agreement with the NATO states would not contradict the existing military agreement between Belarus and Russia. According to the agreement with Moscow, the Belarusian army is an integral part of a joint regional military grouping with Russia. In Jakovlevski's view, the NATO cooperation agreements do not suggest Belarus is shifting towards the West. "Minsk would not undertake anything that would go against the military interests of Moscow," he said.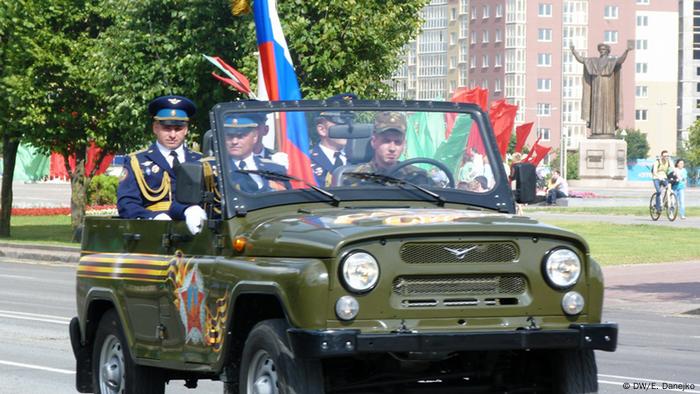 Minsk was host to a joint Russian-Belarusian military parade in 2014
What are Minsk's objectives?
Minsk is always on the side of the Kremlin, including in its assessment of events in Ukraine and Syria, says Vytis Jurkonis, political scientist at Vilnius University. In his view, the peace-loving noise Belarus has been making since Russia annexed Ukraine's Crimean Peninsula is a "PR campaign" with which Minsk is trying to present itself as neutral. "The Belarusian leadership wants to gain access to European money, while at the same time making Moscow nervous by turning towards the West," he said, adding that in this way, the government in Minsk is trying to steer the Kremlin in its favor on the international stage.
"Belarus cannot be neutral, because it has two Russian military bases on its territory, and is conducting maneuvers with the Russian military on the NATO border," Jurkonis said.
But how does Moscow see Belarus' agreement on formal military cooperation with NATO states? Andrei Serenko, a Russian political analyst and member of the League of Experts of Post-Soviet Space (LEPSS), told DW: "Moscow is hardly going to be pleased with Belarus' attempts to demonstrate autonomy and diversify its foreign policy." On the other hand, he added, Russia had little to fear from the new agreement. "Moscow wields enormous influence over Minsk," Serenko said.
Special forces agreement with the Kremlin
According to a decree published at the beginning of December the Belarusian president Alexander Lukashenko (pictured at top) has, among other things, instructed Belarus' State Security Committee (KGB) to negotiate with the Russian side over an agreement that would permit the deployment of both countries' special forces in anti-terrorism operations on the other's territory. Mikhail Pastukhov, the former head of the Belarusian constitutional court, regards this as a violation of the constitution. "It says that Belarus itself is responsible for securing law and order in the country," he said.
But why does Minsk need Russian special forces? Vladimir Borodach, a former colonel in the Belarusian secret service who now lives in Germany, told DW that Minsk has plenty of special forces of its own. "However, Lukashenko and Russian President [Vladimir] Putin fear that that the decline of their national economies will mean the same thing happens as happened in Kyiv: mass anti-government protests." In that event, Russian special forces would rush to Lukashenko's aid; or conversely, Belarusian forces would fly to Moscow to "strangle the insurgents," should Russia's own special forces refuse to do so.