Apolonia Alvarez walks with a powerful stride towards her corn field, near the town of Izucar de Matamoros, in the southern central Mexican state of Puebla.
The 54-year-old farmer rents just a little more than 60 square meters of a corn plot in this poor area. Right now, it's in a sorry state. The earth is dusty and bare and most of the stalks lie dying in the hot midday sun.
"My corn almost didn't grow at all this last summer," she says. "The rain stopped when the crops were still very, very small."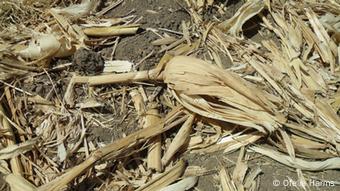 Apolonia Alvarez' corn crop has been heavily impacted by the ongoing drought
The mother of four tries to support her family with the corn she grows here, but, this past year she has only been able to harvest a few sacks of corn. When the crop fails, Alvarez supplements her income by doing small jobs for other people instead.
"I'm by myself. When I can I sometimes help to wash or iron other people's clothes, but I only earn about 50 pesos," she tells DW. Fifty pesos is equal to about three euros ($4).
A number of contributing factors
Alvarez used to live in the state of Guerrero, but she and her family left when gun-carrying gangs made it too dangerous to stay. This state is now among the most unstable regions in the country due to gangs, who are fighting over control of the local drug trade.
A few years ago, Alvarez's husband went to the US, where he now works in the construction industry. That is a common story in Mexico. Many rural men are moving to cities in mexico or the USA in search of work, due to the lack of support for rural areas by the Mexican government.
Some studies suggest that there is also an external reason for the mass exodus. Since 1994, when Mexico signed the North American Free Trade Agreement (NAFTA), eliminating trade barriers with the US and Canada, cheap agricultural imports have been available on the country's domestic market.
Many Mexican farmers simply couldn't compete with the cheaper imports from abroad - especially corn - and many men left the rural areas looking for other ways to earn money.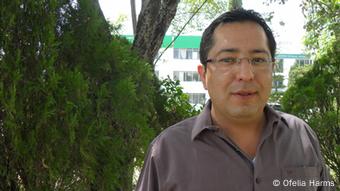 Antonio Espejel Claudio says women farmers are now the main breadwinners in Puebla
The small farms that did continue to operate are now increasingly being run by women. According to the UN's Food and Agricultural Organization (FAO), women make up 60 percent of all farmers in Mexico.
At the Agricultural Ministry in Puebla's state capital, Antonio Espejel Claudio, acknowledges that there has been a demographic shift across the state of Puebla, amongst those working in agriculture.
"In the Mixteca region, for example, we work almost exclusively with women because many men have migrated to the US," he told DW.
Fighting an uphill battle
In 2012, Puebla's Agricultural Ministry increased subsidies to family-run farms, to provide new irrigation systems and up-to-date farm machinery. Officials here say female farmers are a good investment for subsidies, because they tend to be more likely to pass the benefits of the subsidies on to their children and other family members.
"In most of our projects, we detected much more participation from women," Espejel admits. "They seem to be more responsible than the men."
Those women that are new to farming are also getting training in land management and financial planning. Those skills will be crucial as Mexico's weather becomes more unpredictable, according to meteorologist Lluvia Gomez Texon.
"Temperatures up to 35 degrees Celsius in these regions have been registered in previous years," Gomez says. "And, we are expecting the same again this spring."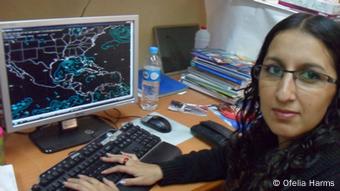 Meteorologist Lluvia Gomez Texon expects this rainy season will again be dry
Spring is traditionally the time when the rains come to Mexico's central highland regions, like Puebla. If that rain doesn't fall again this year, the situation for farmers like Apolonia Alvarez is going to become even more challenging.
In fact, Alvarez says she doesn't know what the future holds for her. She's never seen a drought as bad as the current one, and she also hasn't heard about subsidies for female farmers in her town.
In the rural Puebla state, access to infrastructure and communication are scarce, meaning many small farming communities are almost cut off from society. That's yet another challenge for authorities here as they try to improve the lives of Mexico's women farmers.