Angela Merkel rarely visits Kyiv. In her nearly nine-year tenure as chancellor, she has only been in the Ukrainian capital one time - six years ago. It was a short visit on July 21, 2008 that only lasted a few hours. The Ukranian president at the time was Viktor Yuschenko. The Konrad-Adenauer-Stiftung - a German right-center political foundation - described the joint press conference in as a "cold shower" for the head of state from Kyiv. Admittedly, Merkel supported his pro-western course but rejected a swift approach of Ukraine to NATO and the European Union. Yuschenko's successor, Viktor Yanukovych, never visited Merkel. Berlin kept its distance from those authoritarian politics.
The chancellor will now visit Kyiv Saturday (23.08.2014) for the second time. This time, as well, she will only have a few hours. But this time Merkel's visit is under different circumstances.
Ukraine is experiencing its most difficult crisis in its young history. Russia annexed Crimea, and a war that has been raging in the east of the country for months is alleged to have claimed the lives of thousands of victims.
Contact between Berlin and Kyiv is intense as never before. New Ukrainian president Petro Poroshenko has already visited Berlin twice - before and after his election victory in May. He met with Angela Merkel during D-Day commemorations in Normandy and at the EU summit in Brussels. The chancellor and Ukraine's president phone each other every few days.
Symbolic Moment
The timing of Merkel's visit will be seen in Kyiv as a strong symbolic gesture. The chancellor arrives on the eve of Ukrainian independence day. Ukrainian foreign minister Pavlo Klimkin therefore deemed Merkel's trip "unique." Political expert Olexij Haran sees it similarly. "It is, symbolically, an important date, and emphasizes who Germany shares solidarity with," the professor from Kyiv Mohyla-Academy told DW.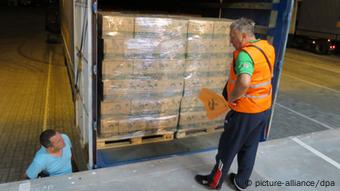 On Friday, Obama and Merkel condemned Russia's decision to forcefully send aid trucks into eastern Ukraine
Haran points also to a different date. Merkel arrives in Kyiv on, of all possible dates, the day in which the so-called Hitler-Stalin pact was signed 75 years ago in Moscow. On 23 August, 1939, the division of eastern Europe was sealed in secret protocol as part of the German-Soviet nonaggression pact.
"It may be a coincidence, but the visit is symbolic," Haran said. Earlier, he says, many in Ukraine were critical of Berlin's politics, alleging that Germany accepted Russian spheres of influence. "Now we see that German attitude has changed on account of the aggressive politics of President Vladimir Putin," Haran said.
Fear of a Berlin-Moscow axis
The recent meeting between Merkel and Putin before the World Cup final in Brazil in July sparked particular outrage in Kyiv. Many Ukrainians took part in a social media campaign against Merkel. There were dozens of photo montages with the headline, "Thank you, Madam Ribbentrop"- an allusion to Nazi foreign minister Joachim von Ribbentrop, who signed the Hitler-Stalin pact. Later a publication in the British press sparked worries in Ukraine. Germany, it claimed, is currently working with Russia on a plan to settle the fighting in eastern Ukraine - in exchange for western recognition of Russia's annexation of Crimea. Ahead of Merkel's visit some leading figures in Ukrainian media even warned of a "Merkel-Putin Pact."
Berlin denied such speculation. However, the skepticism in Kyiv remains. Experts like Olexander Suschko expect "a clear signal from Merkel's visit, therefore, that Berlin and Kyiv have common solutions for the conflict in Donbas." It will be necessary first and foremost, he says, to come to an agreement on common positions before the planned summit meetings between Russia, Ukraine, and the EU in Minsk on Tuesday.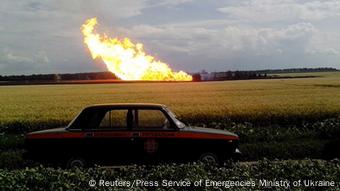 In June, a pipeline explosion further disrupted gas flows and was deemed an act of terror by Kyiv.
"It is impossible to freeze the conflict without securing the Russian-Ukranian border," said the scientific director of the Kyiv Institute for Euro-Atlantic Cooperation in an interview with DW. Otherwise, more and more supplies for the separatists will continue to cross the border.
Hope for monetary aid
No less important in Suschko's view is concrete help from Germany. Kyiv needs exceptional financial support. "There could, for example, be a foundation to secure foreign investment in Ukraine," the expert suggested.
The government in Kyiv hopes also for German help in meeting its energy needs. On account of a price dispute, Russia is currently delivering no gas to Ukraine. Ukraine's parliament recently permitted a partial privatization of its gas pipelines, and it is not inconceivable that Poroshenko will ask Merkel to campaign for German companies to take part in that process. In that way, the Russian-Ukrainian gas dispute could eventually be alleviated. That is the hope in Kyiv.