In an interview with Die Welt am Sonntag, Merkel reproached Russian President Vladimir Putin for standing in the way of East European countries that would like to join the EU or strengthen relations with it. Merkel said "Russia created difficulties" for Moldova, Georgia and Ukraine, which had "on their own sovereign decisions, signed association agreements with the EU."
Merkel told the center-right German daily's Sunday edition that "I am convinced that the collective European response to Russia is the right answer." The chancellor added that the fact "that Russia had broken its guarantees in the Budapest Memorandum of 1994 guaranteeing the territorial integrity and sovereignty of Ukraine must not be without consequences."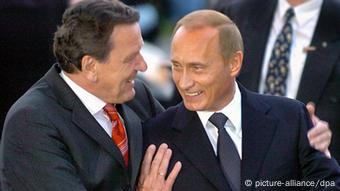 Schöder (left) has warned against isolating Putin (right)
She also took on chancellery predecessors. Fellow Christian Democrat (CDU) Helmut Kohl, who left office in 1998, and Gerhard Schröder, the Social Democrat (SPD) whose spot she took in 2005, say Germany's Russia policy isolates Moscow. The Greens and the Left, the two main parties forming the current Bundestag opposition, have also criticized the CDU-SPD coalition's policy toward Russia.
Last fall, Ukraine nearly signed an EU association agreement before the president cozied to Russia instead. After a series of protests overthrew the regime, the country fell into civil war. Russia has since annexed a Ukrainian peninsula and - according to the government in Kyiv, as well as the EU, the US and international observers - supported separatists with weapons and military assistance.
'Still insufficient'
Merkel criticized fiscal policies in Italy and France after the two countries won more time from the EU to put their public finances in order. Deep divisions have emerged at the European Commission over how to handle the failures of France and Italy to bring their books in order, with German officials preaching harsh austerity and leading the call for the two to meet their commitments.
The Commission had "drawn up a calendar according to which France and Italy are due to present additional measures," Merkel said. "That's justified because both countries are in the process of carrying out reforms," she added. "But the Commission has also said in a clear manner that what is on the table to date is still insufficient," she said. "That's something that I agree with."
Last month, the EU gave France, Italy and Belgium three extra months to fix their budgets. The Commission, the EU's executive arm, singled out France for special criticism, citing its "limited progress" in reducing fiscal red ink. The country's deficit could top 4 percent of GDP in 2015, above the EU-allowed ceiling of 3 percent.
mkg/mg (Reuters, AFP, dpa)