Angela Merkel has more than one way of going about things. As far as domestic politics is concerned, she could be said to lead from behind. And, particularly with the more hotly contested issues, the chancellor is happy to remain at a distance.
It means she can appear to be a spokeswoman for the majority opinion. But it's a situation that not everyone finds ideal.
She differs is on foreign policy, though, where she plays an assertive, more dominant role. Merkel has pushed European partners in the direction of greater financial discipline. The Franco-German locomotive at the heart of the European Union now seems to have Berlin as its engine and Paris as a trailer carriage. Merkel has also sent weapons to the Kurds in Iraq, breaking one of Germany's big postwar taboos. And now she is confronting Putin. It is a foreign policy of strength.
The New York-based business magazine Forbes, in its May rankings of those wielding political influence, this year named Merkel the most powerful woman in the world. The winner of the male category also stayed the same: Vladimir Putin. If relations between the two were already distant before the Ukraine crisis, they were shattered by Moscow's annexation of Ukraine.
Merkel simply cannot abide the macho politics of Putin. On the flip side, she commands his respect.
Diplomatic wrangling
The positions in this diplomatic tug-of-war are clear. Russia has set precedents and broken international law, Merkel says. Now, she is among those threatening Russia with sanctions. The result is a falling Ruble - and this at the same time the oil price is sinking. Putin will not make concessions, but Merkel is determined not to let him get away with things. In Brisbane, at the G20 summit, German and Russian relations were under scrutiny; there was even talk of a G2 summit between the two leaders.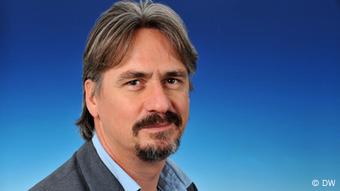 DW's Volker Wagener
Merkel's Russia strategy is unambiguous: to establish a clear position and to talk about it. Since the annexation of Crimea, she and Putin have had verbal "clashes" on 35 occasions.
Merkel is respected in Russia. Strong women have proved popular there in the past. The "Iron Lady" Margaret Thatcher was held in some esteem back in Soviet days - an exceptional figure of strength from the mollycoddled West.
Merkel - a bridge to the West
Merkel can afford to be both gracious and a steadfast critic. Russia needs the chancellor, and Germany. Moscow has an antipathy to the US, while there is disdain for the EU as an institution. Germany. meanwhile is well regarded, and Merkel is the most important individual that Russia has when it comes to dealing with the West. Berlin guides EU policy concerning Russia. Moscow has no wish to deal with anyone else.
Even in the case of Ukraine's association agreement with the EU, it is Merkel who is Europe's leading voice. The implementation of the agreement has been deferred for a year for Russia to articulate its concerns about negative effects of the agreement on its own economy. Merkel She has also expressed keenness on possible cooperation between the EU and any Eurasian Union envisaged by Moscow - without removing her foot from the sanctions pedal.
Crimea and the separatist-held areas of Ukraine will not be given back to Kyiv, although the leverage of sanctions would appear to protect Ukraine from any further Russian ambitions. At least, that is Merkel's calculation.
The focus is already moving to Transnistria, Abkhazia and South Ossetia. While the policies of individual European nations regarding Russia may drift apart, in Angela Merkel the EU has a pragmatic and determined political counterweight to Putin. With Merkel having nearly three years left in power, it could be a lengthy fight.