German Chancellor Angela Merkel held talks on Sunday with Turkish leaders in a bid to stem the flow of asylum seekers and migrants entering the EU.
Prior to arriving in Turkey, Merkel said that "all the issues will be on the table," including the conflict in Syria, visa restrictions and the struggle against terrorism.
Officials have said that the EU offered Ankara an aid package of at least 3 billion euros ($3.4 billion) along with easing EU visa restrictions for Turkish citizens and revitalizing EU membership talks.
However, Turkish President Recep Tayyip Erdogan said on Friday that he was unimpressed with the EU's initial offer.
"Europe's security and stability is contingent on our security and stability. They have accepted this now," Erdogan told an audience in Turkey's largest city Istanbul.
"We are hosting 2.5 million refugees but nobody cares," Erdogan said.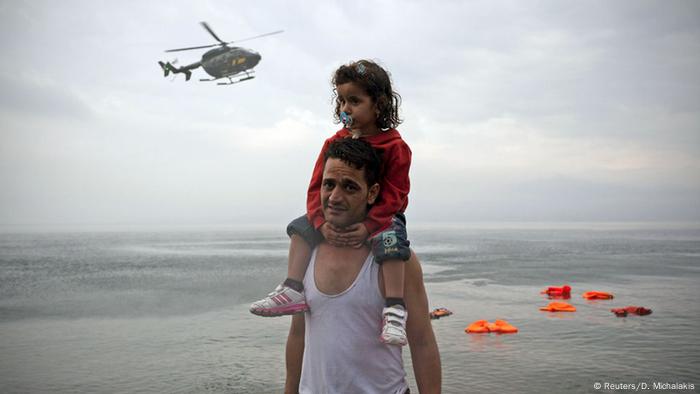 The majority of refugees arriving in Europe come from war-torn Syria
'No other solutions'
The Berlin-based think tank European Stability Initiative said Sunday's talks needed to produce concrete measures as Germany and Turkey "share a capacity to bring the migration crisis back under control," reported AFP news agency.
"If Germany and Turkey cannot reach a deal, there are no other solutions in sight, and the mass migration of Syrians and others into the EU will continue," the think tank said in a report.
More than half a million asylum seekers and migrants fleeing war-torn countries in the Middle East, Asia and Africa have entered the EU in 2015, according to figures from the International Organization for Migration (IOM).
The EU has struggled to form a cohesive action plan to manage the wave of migration, with several ex-communist countries rejecting measures to relocate asylum seekers.
Hungary shut its border with non-Schengen member Croatia and reinstated border controls on its Slovenian frontier in a bid to stop migrants from entering the country.
While Merkel's open-door policy for Syrian refugees has been hailed as a positive step, the move has drawn criticism from conservative allies domestically.
Germany, a favored destination for people seeking asylum, is expected to handle more than 800,000 asylum applications before the end of the year.
ls/se (AP, AFP, dpa)