German Chancellor Angela Merkel implicated Brexit as one of the causes of a worsening global economy, speaking after a meeting with leaders of multilateral financial institutions in Berlin on Tuesday.
Britain's impending divorce from the European Union is a significant source of uncertainty for world economies, Merkel said following her annual meeting with top officials from the International Monetary Fund, World Bank, Organization for Economic Cooperation and Development, World Trade Organization (WTO) and International Labor Organization.
She declined to lay the blame for the world's slowing economy soley on the US-China trade war, saying Europe had "nothing to be smug about."
"We've been negotiating an orderly British exit for three years. And that brings us great uncertainty when you consider that that exit should happen on October 31. And people still don't know how supply chains will look" said Merkel.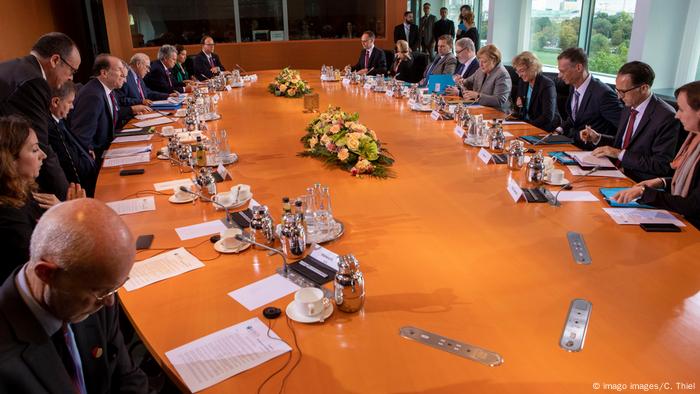 Merkel met with the heads of international economic institutions in Berlin on Tuesday
A slowing global economy
The WTO forecast on Tuesday that global trade is expected to slow to its slowest pace since the Great Recession which began in 2008, largely because of the ongoing trade dispute between the US under President Donald Trump, and China.
Read more: IMF warns of trade tensions in global outlook downgrade
The WTO said it expects volumes of traded goods to rise 1.2% in 2019, well below the 2.6% estimate it issued in April and the weakest growth rate for world trade since 2009.
World economic growth is also forecast to drop from 3% to 2.7%.
"The darkening outlook for trade is discouraging but not unexpected," said WTO chief Roberto Azevedo in response.
German employment rises, despite slowdown
Germany's economy is heading toward recession, and Merkel on Tuesday also noted that this would have some effect on the job market.
The German government reported that unemployment dropped from 5.1% in August to 4.9% according to figures announced on Monday.
Read more: Opinion: Are the good years over for German firms?
The nation's economy contracted by 0.1% in this year's second quarter and experts believe data will show an additional slowdown between July and September.
Every day, DW's editors send out a selection of the day's hard news and quality feature journalism. You can sign up to receive it directly here.
kmm/se (Reuters, AP, dpa)