A deeply corrupt former prime minister whose passport has been seized flees his country to claim asylum abroad. Sounds like the plot of a thriller novel? It's not. Macedonia's former Prime Minister Nikola Gruevski — who ruled the country from 2006 to 2016 in an authoritarian and mafia-like manner, and who was sentenced to a two-year jail term for corruption — has managed to flee to Hungary and apply for political asylum, despite his passport having been confiscated.
How he actually managed to escape Macedonia remains a mystery. On Tuesday, Gruevski announced on his Facebook page that he now resides in Hungary, writing that "I will always be loyal to Macedonia. I will never give up." The former leader has maintained close ties to Hungary's Prime Minister Viktor Orban for years.
Skopje confirms Gruevski escape
The Hungarian side has so far not officially confirmed that Gruevski has applied for asylum in the country. Asked for comment by DW, a Hungarian government spokesperson said that the matter could neither be "confirmed nor denied" and that the government does not comment on asylum applications that are still being processed.
Meanwhile, Macedonia's interior ministry confirmed yesterday that it had been informed by Hungary that Gruevski is currently staying there. Macedonian authorities also issued an international warrant for Gruevski's arrest, and demanded that Hungary's ambassadorreport to Macedonia's foreign ministry. All the while, Hungary's leadership has remained noticeably silent on the Gruevski affair.
To understand how it came to this, it is useful to look back at Gruevski's past as well as his long relationship with Orban. During his ten-year tenure, political observers likened his governance style to that of a mobster; widespread protests forced him to resign in 2016. . Documents and audio recordings analyzed by Macedonia's Special Public Prosecutor (SJO) over the past two years indicate Gruevski and his aides ordered that his political enemies be placed under surveillance and systematically intimidated. Gruevski and his allies regularly rigged elections, and established a system of pervasive political corruption.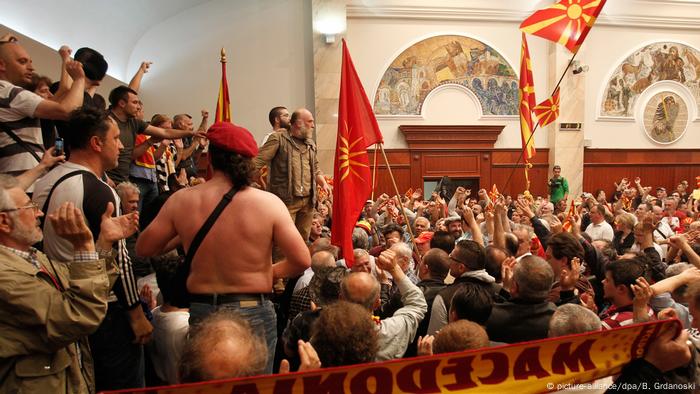 Despite his having resigned over a year earlier, Gruevski's supporters stormed parliament in April 2017, injuring several lawmakers
Overwhelming evidence against Gruevski
In May this year, the Macedonian strongman was sentenced to a two-year jail term for unlawfully purchasing a luxury car — although many more trials for much graver misdeeds still await him. The evidence against him is overwhelming, and Gruevski would most likely face many years behind bars.
During the last years of his rule, Gruevski was treated as a political pariah on the international stage. Only Orban stuck by his side, even after Gruevski was forced to resign. Roughly one year ago, Orban and Gruevski, along with Slovenia's ex-Prime Minister Janez Jansa, who has also been sentenced for corruption, appeared at campaign events together in Macedonia. By this time, Gruevski's passport had already been confiscated, prompting Hungarian media outlets to speculate whether Orban had promised to grant Gruevski asylum.
In last September this year, the Hungarian leader released a video in support of Gruevski's nationalist VMRO-DPMNE party which appeared to reject moves to rename the country to settle a longstanding name dispute with Greece. But the relationship between Orban and Gruevski appears to go beyond such gestures: figures affiliated with Orban's ruling Fidesz have reportedly invested in Macedonian media outlets linked to Gruevski's party.
Orban's agenda
The Hungarian prime minister's political strategy includes supporting authoritarian political figures across the Western Balkan region and seeking to secure the region's swift integration into the EU. Orban hopes this will help him further his EU reform agenda, which aims to strengthen national sovereignty within the bloc, and scrap the EU's rule of law framework. Orban also maintains closes ties with Macedonia's current President Milo Djukanovic and Serbian President Aleksandar Vucic.
Gruevski's escape raises serious questions for Macedonia's government led by Prime Minister Zoran Zaev, at both domestic and international levels. How did his escape go undetected? Was his location not being monitored in Macedonia? Does Prime Minister Zaev have sufficient control over his police force and secret service? After all, it was known for weeks that Gruevski would be imprisoned as of November, and there were indications that he might try to flee.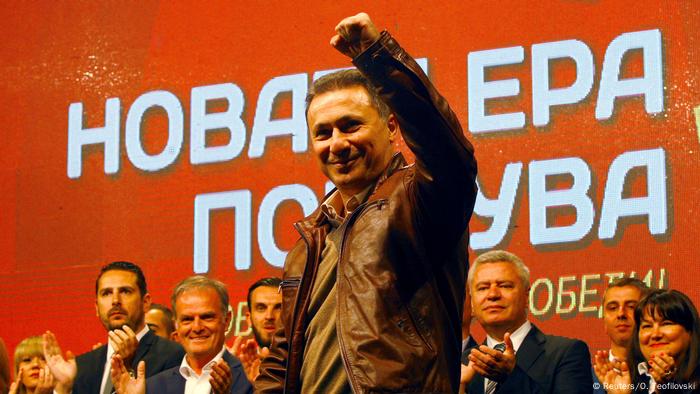 Despite being forced to resign as PM, Gruevski remained party leader until December 2017 and continued to campaign for his party colleagues
Budapest faces awkward questions
The Hungarian side, meanwhile, also faces some awkward questions. For example, how did Gruevski manage to travel to the Hungarian capital despite lacking a passport? Hungary, after all, is an EU country with rigorous border checks. And according to the country's asylum law, Gruevski would have been forced to remain in a so-called transit zone for asylum-seekers. If Gruevski entered Hungary via Serbia, he should have been immediately deported back to Serbia, as Hungary deems the country a safe country of origin that warrants no right to claim asylum.
Thus far, Orban has insisted on respecting the law and the rules of democracy. But the Gruevski case represents a major dilemma for him: Will he publicly assist an individual who has been convicted of corruption in accordance to the rule of law, or will he heed intentional law and respect the warrant for Gruevski's arrest?