Macedonia's former head of government, Nikola Gruevski, unlawfully influenced state officials to buy a Mercedes worth around €600,000 ($702,207), and then kept the vehicle for personal use, a court in Skopje found on Wednesday.
Judge Dobrila Kacarska sentenced the embattled politician to two years in prison. The former prime minister is to remain free pending an appeal.
Prosecutors say Gruevski called his then-interior minister Gordana Jankulovska in 2012 and urged her to order the purchase of the luxury armored car. According to audio evidence, Gruevski said that he would use the car and the public would be kept in the dark.
Moreover, Gruevski apparently received a kickback from a car dealer for recommending it for the purchase.
On Thursday, judge Kacarska said the former prime minister "lied and ridiculed citizens" and was "intentionally trying to hide the vehicle."
Read more: Protesters break into Macedonian president's office, set furniture alight, smash windows at ministry
Gruevski absent from courtroom
The court also sentenced interior ministry official Gjoko Popovski to six and a half years in prison for his role in the case.
The trial of Jankulovska has been separated due to her "risky pregnancy" and is due to start next Monday.
The nationalist Gruevski ruled Macedonia between 2006 and 2016. The 47-year-old politician was not present in the courtroom on Wednesday.
Read more: Scandal hit Gruevski seeks comeback in Macedonia election
The "Tank affair," as the armored car purchase is known in the Macedonian media, is only one of several legal cases facing the nationalist Gruevski. He also faces charges of corruption, election irregularities, ordering violence, and abuse of office.
'Keep your chin up, my proud Macedonians'
Gruevski has denied any wrongdoing. Earlier this week, he slammed the process as "purely political" and "political torture."
On Wednesday, he published a Facebook statement saying that "better times are coming."
"Keep your chin up, my proud Macedonians and proud citizens of Macedonia," he posted. "This is your country, we will never let you down and we will stay shoulder to shoulder with you in any challenge."
A small group of Gruevski supporters gathered before the court building in Skopje during the reading of the verdict.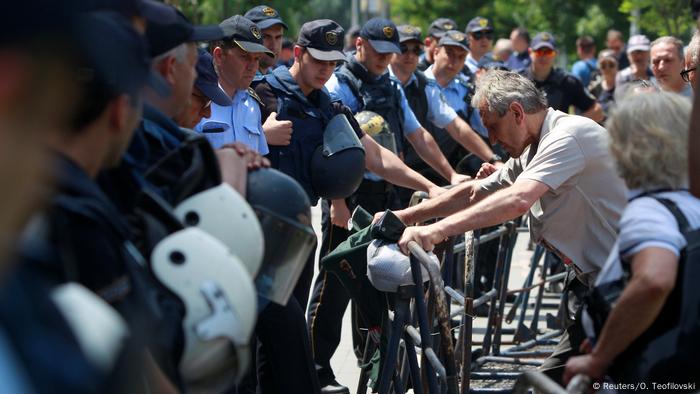 A small group of Gruevski supporters gathered in front of the court house
Gruevski was forced to resign in 2016 over a massive wiretapping scandal, which saw the opposition accuse the government of illegally spying on over 20,000 citizens in a country of around 2.1 million people. Then-opposition leader and current prime minister Zoran Zaev presented the recordings in public, and some of the material has been used against Gruevski over the "Tank affair."
dj/jm (AP, AFP, dpa, Beta, Makfax)
Each evening at 1830 UTC, DW's editors send out a selection of the day's hard news and quality feature journalism. You can sign up to receive it directly here.