Political turmoil in the Former Yugoslav Republic of Macedonia took a violent turn a day after the president declared a sweeping amnesty in a massive wiretapping scandal that has rocked the tiny Balkan country for more than a year.
Thousands of protesters took to the streets late Wednesday throwing stones and eggs at government buildings. Every window of the president's office was broken, and then protesters broke into the building and set furniture on fire.
Windows were also smashed at the Ministry of Justice, as police struggled to control the angry mobs.
"Twelve people were detained and one journalist was injured," said police spokesman Toni Angelovski.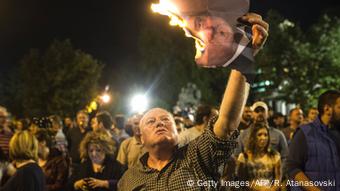 A protester burns photo of Macedonian President Ivanov
Protesters are demanding the resignation of President Gjorge Ivanov, after he announced he would pardon 56 government officials in a massive wiretapping scandal that reportedly listened in on 20,000 people, including political opponents, members of the judiciary and journalists.
Ivanov justified his decision, saying Macedonian politics had been reduced to a crippling competition of criminal investigations and charges, and that it had become "so tangled that nobody can untangle it."
President's argument is widely rejected
But that argument was rejected by masses of Macedonians and the international community.
The US Ambassador to Macedonia, Jess Baily issued a stinging rebuke of Ivanov's amnesty.
So far the president is refusing growing pressure, including from Washington, to reverse himself. The US State Department urged Ivanov to reconsider his decision so as to ensure "justice for the people of Macedonia."
Macedonia's official gazette on Wednesday said mayors, businessmen and judges were among those pardoned, as well as opposition leader Zoran Zaev, of the Social Democratic Union of Macedonia.
Zaev is the one who blew the whistle on the massive wire-tapping scandal last year. The government denied the allegations and in response filed charges against Zaev, accusing him of "spying" and attempting to "destabilize" the country of 2 million people, which aspires to join the European Union.
At the center of Zaev's allegation in February 2015 were Prime Minister Nikola Gruevski, and his counter-intelligence chief, Saso Mijalko. After months of political crisis an EU-brokered deal resulted in Gruevski's resignation in January, in exchange for a special prosecutor appointed to investigate the wiretap allegations, and early elections planned for June.
But the presidential pardons have now called those elections into question.
The EU commissioner in charge of relations with would-be member states, Johannes Hahn, said he doubted credible elections were possible under the circumstances, and the opposition has already pledged to boycott them.
bik/bw (Reuters, AFP, AP)