Yielding to pressure at home and abroad, Ivanov announced late on Monday that he would allow proceedings to go ahead in all 56 cases.
"I have decided to revoke the remaining pardons that I had granted," Ivanov said in a written statement.
The pardons, granted in April, had exempted 56 officials and politicians from prosecution. The names included former Prime Minister Nikola Gruevski and opposition leader Zoran Zaev, with both sides accusing each other of involvement in the surveillance scandal.
In May, Ivanov had revoked pardons for 22 "politically active" people, who were being investigated - although it remained unclear exactly who was included. The latest decision extends the revocation to the 34 remaining officials.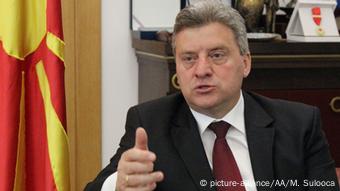 Ivanov said the pardons offered an opportunity for reconciliation
"In the past 10 days we have been witnesses of different interpretations of the decision to pardon....therefore I decided to annul the remaining decision for pardoning," said the president.
Ivanov, a conservative, defended his decision to grant the pardons, but said the left-wing opposition had abused it to make political gains.
"I was and am convinced that this decision to pardon would contribute to national reconciliation and offer a way out of the political crisis," he said.
Thousands 'spied on'
The granting of the pardons had effectively halted the work of a special prosecution body, which was appointed to investigate numerous allegations. Among the charges, Gruevski and his staff were accused of illegally eavesdropping on some 20,000 Macedonians to tighten their grip on the country.
The domestic opposition, as well as the United States and European Union, had protested the decision to suspend the investigations, warning that Ivanov was stopping politicians from being held to account.
Domestic protests, sometimes violent,
also forced parliament to
postpone general elections
that were slated for June 5.
The country became embroiled in its current political crisis when Zaev and his Social Democratic Union (SDSM) refused to accept the result of snap polls from April 2014. The SDSM claimed that Gruevski and his conservative VMRO party, which has been in power since 2006, had abused the levers of power to ensure the election result went their way.
The wiretapping allegations were raised by Zaev in January 2015, when he provided samples of recordings that appeared to have been made of politicians, judges, journalists and others. Gruevski, who stepped down in January, had countered that Zaev was trying to blackmail him into resignation, and accused his rival of treason.
rc/bw (AP, AFP, dpa, Reuters)