All 96 members of the parliament agreed to cancel the June 5 vote, but did not discuss a new date for the elections.
Earlier on Wednesday, Macedonia's top court suspended all activities regarding the election until it could decide whether the dissolution of the parliament in April was in line with the country's constitution.
Macedonia has been politically unstable since February last year, when the opposition accused Nikola Gruevski, prime minister at the time, and the country's intelligence chief of wiretapping over 20,000 people, including judges and journalists. The scandal exposed the government's tight control over the press and the conduct of elections.
The controversy peaked in April this year, when President George Ivanov pardoned 56 officials blamed for wire-tapping.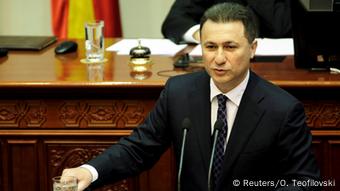 Gruevski has been accused of wire-tapping 20,000 judges and journalists in the country
Hundreds of Macedonians took to the streets to protest the pardon and soon after, three of the country's four major political parties opted to boycott the June vote, arguing that the conditions were not right for free and fair elections to take place. The ruling VMRO-DPMNE was the only group participating in the polls.
The European Union, of which Macedonia wants to become a member, also questioned the validity of the polls and expressed concerns about the rule of law and democracy in the former Yugoslavian nation.
EU foreign affairs chief Federica Mogherini and the EU's enlargement commissioner, Johannes Hahn, said in a joint statement that Wednesday's decision provided "a renewed opportunity for [Macedonia] to address a number of serious issues at the heart of a prolonged political crisis." The EU officials demanded that President Ivanov revoke the pardons, and urged the country's political parties to "find a common agreement that serves all citizens."
mg/bw (Reuters, AP)