Kostas Giannopolous, founder of the charitable organization "Hamogelou Tou Paidiou" (A Child's Smile) has run out of patience. For 20 years, the software engineer has been helping children in need in Greece. He has constantly struggled against bureaucracy and underfunding. The worries have not lessened since the refugee crisis. In the port of Piraeus alone, sixty volunteer doctors have been working for the organization around the clock.
The state shows barely any gratitude; as a matter of fact, it has even made a demand for a payment of over 53,000 EUR, as non-profit organizations are also obligated to pay ENFIA, the property tax that was implemented in the crisis-ridden nation in 2012. Left-wing Prime Minister Tsipras clearly promised that he would abolish the loathed tax. Yet the tax is still being charged and it is suffocating the organization that is funded almost exclusively by donations. This is not an isolated case – even SOS Children's Villages are complaining about their 92,000-euro ENFIA tax bill.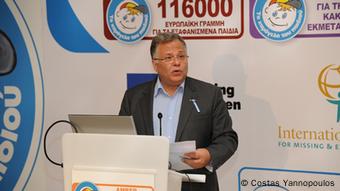 High taxes prevent us from helping more children, says Kostas Giannopoulos
"The high taxation prevents us from helping even more children," warns Giannopoulos in an interview with DW. He cites another example: In Greece's second largest city, Thessaloniki, a well-to-do citizen allowed "A Child's Smile" to temporarily use a multistory building free of charge so that at least 50 children could receive care. However, the donor took back his offer after he had received an ENFIA bill of over 50,000 EUR. He could not afford to pay such a large bill without rental income. Giannopoulos explains that the government had originally promised to re-evaluate the ENFIA tax for non-profit organizations in order to avoid harsh taxation, but it seems like nothing has come of that.
Tsipras greeted by protesters
The pensioner and former policeman Christos Fotopoulos is even angrier at the government. Law enforcers are among the main victims of the crisis – the 59-year-old knows this from experience. "After 40 years of service, I retired in 2015. If there were no crisis, I would be receiving a pension of 2,000 euros today," declares the man from the northern Greek city of Katerini.
Instead, after several rounds of cuts, he now receives 1,295 euros and in October, new cuts are expected. Then, the father of a family will receive just a little over 1,000 euros a month. What annoys Fotopoulos the most is, he says, "This government vainly promised us that there would be no more cuts. Even the previous government could not keep its promise to reverse the former cutbacks. As a result, politicians are losing their credibility; it would have been better if they'd told us the truth from the beginning."
When he was active in the police force, Fotopoulos was involved in the police union and temporarily acted as head of the union. He does not want to give up hope that his colleagues will be heard by the government. On the weekend, uniformed officers will hold protests in Thessaloniki where Prime Minister Tsipras is expected at the opening of the international trade fair. Police and military officers want to remind the Greek leader of his unfulfilled election promises. Pensioners' associations also intend to gather in Thessaloniki for a demonstration.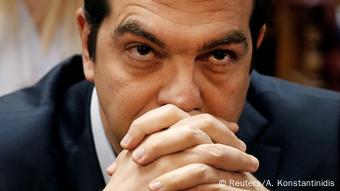 Prime Minister Tsipras is under intense pressure to implement reforms that will hurt a lot of people
Nonetheless, Tsipras is dwelling on the bright side of things – especially with regard to creditors. On September 6, government insiders revealed that they were confident Athens would pay the partial installment of 2.8 billion euros on schedule this fall. Just before the summer break, the finance ministers of the eurozone approved a 10.3 billion euro package for Greece. It is the first tranche of a new aid program worth a total of 86 billion euros.
For the time being, however, the money lenders are willing to disburse only 7.5 billion euros of the approved tranche. The remaining 2.8 billion will follow in September after the Greek government has implemented 15 of the required reforms. Until now, only two of them have been fulfilled. The newspaper "Kathimerini" says the government is lagging behind, but the state broadcaster "ERT" claims that Tsipras has "clearly given orders for the implementation of all 15 terms."
More and more debt defaults
Meanwhile, the amount of outstanding debt to the state has reached a sad new climax. Figures released on Monday show that tax authorities have registered 90 billion euros of unpaid debts. If the slump in government revenues continues, Prime Minister Tsipras will have to make some painful budget adjustments that Greece has promised its creditors. A lot depends on whether the ENFIA property tax can generate the desired additional revenue of 3 billion euros. What else can Greece do? Kostas Giannopoulos asks the same question. "A few years ago, before the recent change of government in Athens, we once refused to pay the ENFIA tax; subsequently, our bank account was seized. Of course, that is also not an option for us," says the head of "A Child's Smile."