North Kosovo, split from the rest of the country by the Ibar River, has become infamous for the authority that bigwigs from Belgrade and organized crime wield there. Ever since Kosovo gained independence from Serbia a decade ago, neither the government in Pristina nor international peacekeeping forces have really had control over the area. Measuring just 1,300 square kilometers, with roughly 50,000 mostly-Serb inhabitants, everybody knows everybody else.
And everyone knew Oliver Ivanovic.
Perhaps the most prominent of all Serb politicians in Kosovo, Ivanovic was murdered outside of his office Tuesday in the Serb area of Mitrovica. He was shot six times from a passing car. No one saw or heard anything, investigators say, because the killers likely used silencers. Authorities found a burned out vehicle about a kilometer from the crime scene believed to be linked to the shooting.
A politician with many enemies
Ivanovic, who previously worked as state secretary in Serbia's specially designated Kosovo Ministry, likely had many enemies. A moderate politician, he frequently butted heads with the government in Pristina, as well as Kosovo Serb politicians and officials in Belgrade.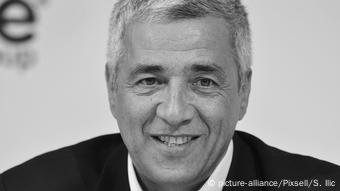 Ivankovic had enemies on both sides of the Kosovo-Serbia conflict
"It's a tragedy, Ivanovic was a courageous man willing to compromise," said Momcilo Trajkovic, a Serb leader from Mitrovica who joined other residents at the crime scene to light a candle a day after the politician's murder.
"Ivanovic leaves a huge gap in our political work in Kosovo," he told DW, adding that the people who killed him are "obviously out of their minds."
Pointing fingers
Kosovo Serbs see themselves as "political opponents." The Srpska lista (Serb List) party, an offshoot of the powerful Serbian Progressive Party, is operated from Belgrade. President Aleksandar Vucic himself campaigned for Srpska lista in local elections last year. His supporters and TV broadcasters close to the government branded the Serb opposition in Kosovo — above all Ivanovic — as traitors and friends of the Albanians. Some candidates gave in to the pressure and withdrew from the elections, but Ivanovic ran for office in Mitrovica — and lost. Now, Srpska lista controls all Serb communities in Kosovo.
"I have no idea who killed Oliver, but we all know who made him a target, who led the horrible campaign against him and browbeat his supporters and friends," tweeted Dorde Vukadinovic, a Serb opposition politician. Other opposition politicians made similar remarks, implying that Vucic's government dictates what happens both in Serbia and North Kosovo, and that political opponents are fair game to attacks.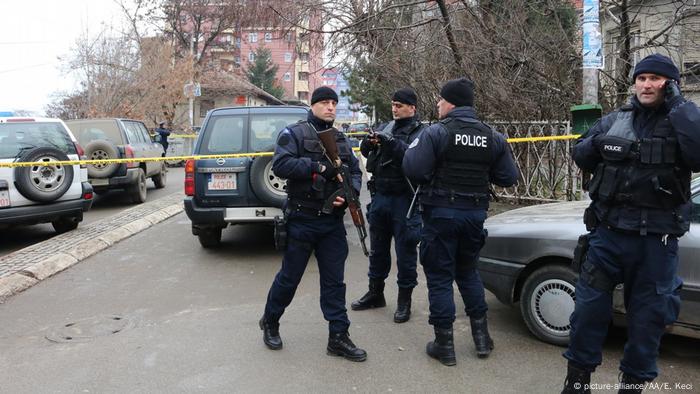 Police are still searching for those responsible for Ivanovic's murder
At a high-profile press conference, Vucic called out his critics for using murder for political ends. He yelled at reporters who dared ask critical questions. The murder is a "terrorist act," Vucic said. He warned against the government in Pristina as well as its international partners taking the killing as an opportunity to move security forces into North Kosovo. "If they don't find the killers, we will," he declared.
Various Kosovar media have portrayed Ivanovic as a victim of domestic Serbian strife. Azem Vllasi, a well-known Kosovo Albanian politician, blamed "Serb and Russian extremists who freely roam the North."
Fear of violence
Ivanovic's murder came the very same day that Serbia and Kosovo negotiators met for European Union-brokered negotiations in Brussels aimed at normalizing ties. The Serbs walked out of the talks following news of the killing.
Meanwhile, the first arrests of former independence fighters from the Kosovo Liberation Army (UCK) are expected next month. The men are to stand trial before the new special Kosovo war crimes court in The Hague. The political elite in Kosovo, still dominated by former UCK warlords, may refuse to cooperate with the court.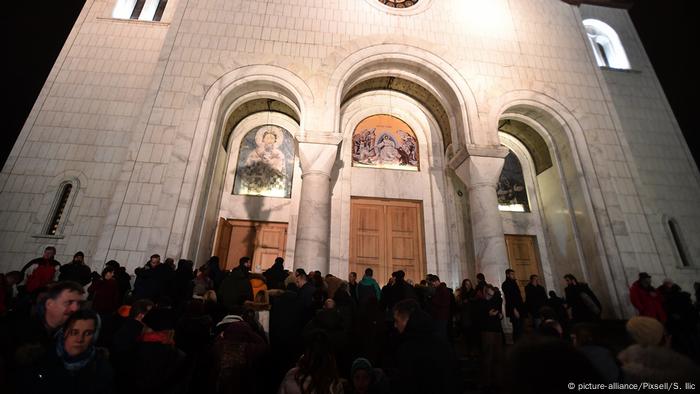 Ivanovic's supporters came out to pay their respect for the murdered politician on Wednesday
"Should that be the case, Kosovo would be headed to isolation instead of cooperation," said Slovenian politician Igor Soltes, the EU Parliament's rapporteur for Kosovo. Peace has been put on shaky footing after Ivanovic's murder, he told DW, adding that this is the time to react with common sense to "reduce tension that could lead to violence."
Many observers see 2018 as a key year in mending relations between Serbia and its former southern province.
The EU, which has been only mildly successful in brokering peace talks between the two sides, has been urging a comprehensive "normalization treaty." Serbs speculate the accord might not be an explicit recognition of Kosovo independence but it would pave the way to the country getting a seat at the UN. Brussels has made it very clear that normalizing relations with Kosovo is the main condition for potential Serbian accession to the EU.