A group of mostly young men crowd together at the bus depot in Belgrade. They're tense as they try to get a sense of the unfamiliar surroundings of the Serbian capital. They speak Albanian, and make it clear that they'd rather not be talking to journalists.
They have a long bus ride out of Kosovo's capital, Pristina, behind them. Now, they want to get to Subotica, a Serbian city in the far north, just kilometers from the Hungarian border. Beyond that begins the Schengen Area, where there are no more border checks. For many Kosovars, that's the Promised Land.
Is EU partly to blame for this mass exodus?
On the border with Hungary, these people become illegal refugees. They enter the EU without a visa; many have the goal of reaching Germany. In Serbia, they are allowed to move freely, with no legal restrictions.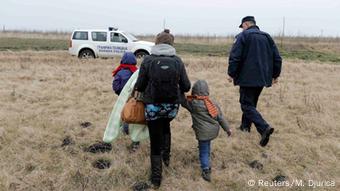 Hundreds of migrants have been arrested at the Serbian-Hungarian border.
"They should be able to move freely in their own country," Serbia's Commissioner for Refugees, Vladimir Cucić, told DW. He represents the official political position in Serbia: Kosovo, the former southern province of Serbia that declared independence almost seven years ago, is not a sovereign state, but still a part of Serbia.
"That's why we can only advise our colleagues in Hungary, or warn them that many groups of people are moving northward. But we cannot and will not limit their movement," said Cucić.
For this reason, all Kosovars crossing over the (from the Serbian perspective non-existent) border between Serbia and Kosovo receive travel documents that allow them to move about freely within Serbia.
According to some estimates, up to 100,000 people have left their homes in Kosovo in recent months. The mass exodus is, among other things, the result of an agreement between Belgrade and Pristina that recently came into effect, permitting freedom of movement of Serbs and Kosovars in both countries. The agreement came about following lengthy negotiations, and massive pressure from Brussels.
Given this pressure, Serbian Foreign Minister Ivica Dačić remarked recently that since the EU was partly responsible for the refugee problem, it should also be involved in finding a solution. Serbian Interior Minister Nebojsa Stefanović went a step further, saying that the fact that so many Kosovars are in Serbia, or applying for Serbian travel documents means that they continue to recognize Serbia as their state.
Teofil Pančić, a columnist for the Belgrade weekly newspaper, "Vreme," finds such statements senseless. He said it is ridiculous to continue to treat Kosovo as a part of Serbia. "It's very simple - some passports are more valuable than others. Just as many Serbs try to secure EU citizenship, whether in neighboring Croatia, Hungary, or Bulgaria, so many Kosovo Albanians want to have a Serbian passport," he told DW.
But he also sees Europe's responsibility for the situation, arguing that the EU and its member states played an active role in the creation of the Republic of Kosovo. Today, more than 100 countries recognize Kosovo's independence, among them 23 EU countries.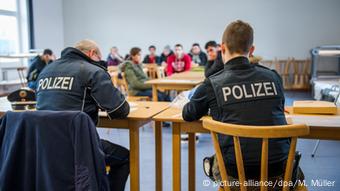 Many Kosovar asylum seekers have managed to reach Germany.
Conspiracy theories
The poor living conditions in Kosovo are most frequently named as the cause for the exodus, but many experts and journalists in Serbia are not content with such a simple explanation.
Serbia Refugee Commissioner Cucić said he doesn't want to be "one of those Balkan conspiracy theorists" but that he sees a certain structure to the exodus. "How can it be that suddenly, thousands of people decide to emigrate to the West via Hungary?" His thesis: The people in Kosovo are being manipulated and a mass exodus has been artificially induced. In this manner, Pristina can create facts and demand visa freedom and other advantages from the EU. Cucić is not alone in his beliefs.
There are many other conspiracy theories circulating. On nationalistic websites such as srbijadanas.com or web-tribune.com people can read the supposedly "true" reasons for the flood of refugees: Kosovo Albanians are fleeing with their children because a new war is coming. The term "Schqiptar" is often used; in Serbia, it's a slur used for Albanians. The popular tabloid "Informer" uses the same word, and complains about an "Albanian invasion."
Teofil Pančić has no patience for such theories. "Kosovo has been going absolutely nowhere for years. It's hard to be a citizen of an entity that's half a state, halfway independent, and only partially recognized internationally. Add to that a terrible economic situation and passport that doesn't allow you to travel anywhere," he said. It's an untenable situation that has created a social time bomb.
The way back
It's doubtful that this time bomb that can be defused with asylum applications in Western Europe. The message from German and Austrian politicians is unmistakable: Kosovars have no chance of getting asylum. In a few months, the masses of people will end up back in Serbia. For the Serbian officials, that's routine, said Cucić. From its own experience of the repatriation of Serbian citizens, Belgrade is familiar with the readmission process.
Every Kosovo Albanian whose asylum application is rejected will be sent back to where he or she came from. But that doesn't mean the problem will have been solved, said Cucić. "The EU will give these people an entry ban. But they will just pay a fee to have their names changed, get new passports, and try it again - just like the many Roma from Serbia before them," he said.