In his final column, which was published posthumously, journalist Jamal Khashoggi, who was reportedly murdered inside the Saudi embassy in Turkey, made a grim diagnosis: Most of the people living in Arab countries are either uninformed, or misinformed, on political events worldwide.
Khashoggi saw only one plausible explanation for this ignorance: "They are unable to adequately address, much less publicly discuss, matters that affect the region and their day-to-day lives," wrote Khashoggi in his last essay published in the Washington Post. "A state-run narrative dominates the public psyche, and while many do not believe it, a large majority of the population falls victim to this false narrative."
Read more: US imposes Saudi sanctions over Khashoggi murder
A monopoly of opinion
The statistics prove Khashoggi right. In the 2018 World Ranking of Press Freedom Index published by Reporters Without Borders (RSF), which includes 180 countries, all nations of the Arab world land towards the bottom of the list.
The greatest relative freedom of the press is in Tunisia, ranked number 97, followed next by Lebanon at 100. Well down the list are Iraq and Egypt, ranked 160 and 161 respectively, followed by Saudi Arabia at 169. The media are even less free in war-torn Syria, coming in at 177.
In authoritarian or dictatorially governed states such as Egypt and Saudi Arabia there is, for the most part, a monopoly of opinion, Christian Mihr, managing director of RSF, told DW.
"Of course, this monopoly is maintained by the respective rulers — President al-Sisi in Egypt and the royal house in Saudi Arabia. Above all, both regimes have but one goal: To stifle political discourse and keep society as apolitical as possible".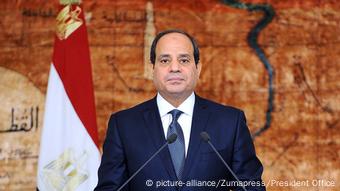 Egyptian President Abdel Fattah el-Sissi has a distant relationship with the concept of press freedom
Brutal measures against journalists
When the regimes clamp down, they do so with all their might. One example is that of freelance photojournalist Mahmoud Abu Zeid, known as Shawkan, who spent five years in detention in Egypt.
His offense: In August 2013, he reported on the clashes between the Muslim Brotherhood and Egyptian security forces in which around 1,000 demonstrators were killed. Shawkan was arrested despite the fact that he had only documented what happened, and had not actively taken part in the post-coup unrest.
For more than five years he was held in various Egyptian prisons, repeatedly subject to physical violence. "Five policemen beat me over and over with a belt, and with their fists," was the description Shawkan gave to Amnesty International on his conditions while still in prison. "And when I went down, they did not stop."
Read more: Critics say el-Sissi's media law shuts down speech in Egypt
There are currently 27 journalists in detention in Egypt, as well as four media workers and five bloggers and citizen journalists. Some of the accusations made against them remain dubious, such as "defamation" and publication of "false" information. According to RSF, in Saudi Arabia, four journalists and nine bloggers are currently in detention.
Mihr warns that the assault on freedom of expression not only threatens political discourse in the Arab world but also "leads to more corruption. If one compares the Press Freedom Index from RSF with the Corruption Perceptions Index from Transparency International, there is a clear correlation. Where freedom of expression is curtailed, corruption flourishes. Where it grows, corruption decreases."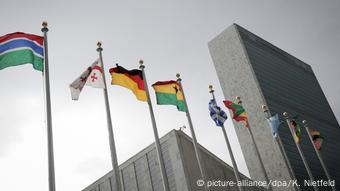 Much ado, but nothing? It remains to be seen what effect the Khashoggi case will have
Co-responsibility of the West?
In his last essay, Khashoggi indirectly blamed Western states for the gloomy state of human rights and press freedom in the Middle East. The West's reactions to human rights violations are no longer met with the sharp criticism that they once were in the past. The late journalist said that the lack of vehement condemnation encourages the authoritarian rulers in the region to continue their harsh offensive against the media.
Egyptian columnist Fahmi Huwaidi views the situation in a similar light: Many Western journalists are now devoting themselves to the decline of democratic values in Europe and the US. The redirection of their focus also affects the Middle East, Huwaidi told DW. "If the institutions in the West were to remain strong, this would then bolster those in the Arab world."
Read more: Raif Badawi Award winners
The impact of this is made all the more dramatic because the forces of political freedoms in the West are now on the defensive, not least because of the threat of jihadist terrorism. "Internationally, there is a political atmosphere that accommodates the counterrevolutions of the Arab regimes. Leaders have, of course, recognized this very quickly and are exploiting it for their own purposes," said Huwaidi.
Huwaidi points out that journalists in the Arab world have lived almost completely without protection. "All that remains in the region is the fight for freedom of the press. But this is a battle for which the parties are paying a very high price. All those involved must be absolutely aware of this."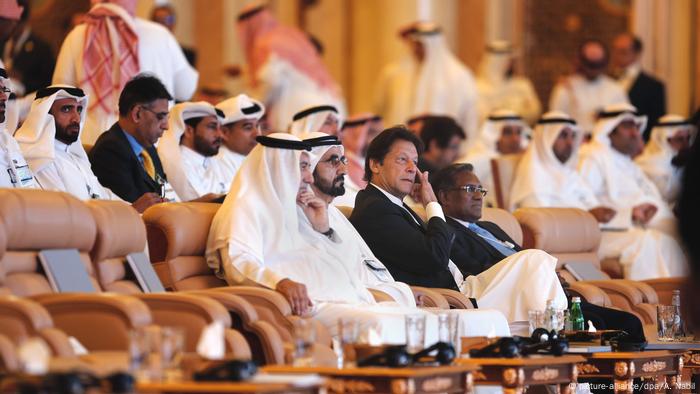 Business as usual? Some leaders, including Pakistani Prime Minister Imran Khan, are attending this week's "Davos in the Desert" despite international outcry
The Khashoggi case: a new beginning?
The uprisings of 2011, known as the Arab Spring, suffered a massive setback, according to media outlet Al-Araby Al-Jadeed, which is affiliated with Qatari broadcaster Al-Jazeera.
Nevertheless, the regimes in the region could not absolutely stifle the surge toward freedom. "Some governments in the Arab world do not appear to have learned the lesson. They believe that a few more formal reforms or that the policies of intimidation utilized so far have been sufficient in silencing citizens. They still seem convinced that money and corruption can buy a kind of virtual stability, and with this, they can extinguish all hope of serious change," says Mihr. However, that this calculated gamble will ultimately prove to be successful is not a given.
The Khashoggi scandal could have the destabilizing potential to do just that, believes Mihr: "I have the impression that the savage murder of Khashoggi has been a wake-up call for the Arab world. Up until now, Saudi Arabia has exercised little caution with its violations of human rights. But the brutality of this incident is something particularly striking." However, one does not want to be too optimistic, warns the RSF director. "But I have the impression that this case will have more of an impact than usual."