Italian President Sergio Mattarella on Monday met with the country's main political parties in a last-ditch effort to form a coalition government.
Matteo Salvini, who leads the far-right Lega, or League, said he asked the president to appoint him as prime minister, saying he could find like-minded lawmakers in parliament to form a government.
Read more: Opinion: Italy's uncertain political future
"We trust that the president will give us the chance to find a majority in parliament," Salvini told reporters after the meeting.
The stakes are high. Since inconclusive elections in March, Italy's political parties have failed to reach a consensus.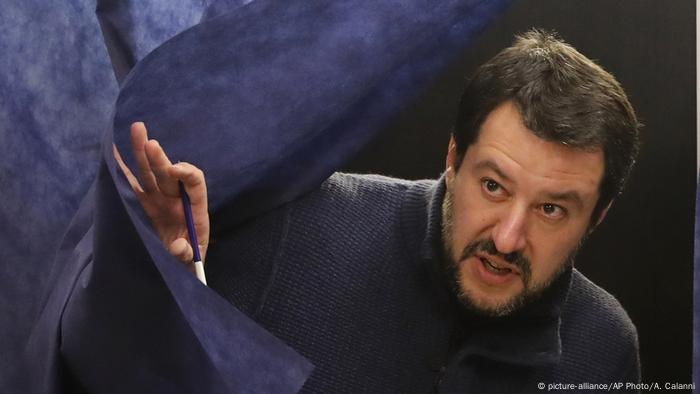 Matteo Salvini has argued that he deserves to be prime minister for leading the largest alliance in parliament
Coalition offer
The euroskeptic 5 Star Movement's (M5S) leader Luigi Di Maio on Sunday offered to form a coalition government with the League. The party used to be known as Lega Nord, or Northern League, due to its separatist ambitions.
"If the goal is to put into action an election platform and the obstacle is Luigi Di Maio as premier, then I say let's choose a prime minister together," said Di Maio during an interview on Rai state television on Sunday, referring to League leader Matteo Salvini.
But Di Maio insisted that his party would not form a government with former Prime Minister Silvio Berlusconi's Forza Italia, which forms part of a right-of-center coalition led by the League.
Read more: Luigi Di Maio: The populist leader eyeing victory in Rome
Although Di Maio's M5S led the election with 32 percent of the vote, the League-led right-wing coalition managed to secure a combined 37 percent. However, both political forces failed to reach the 40 percent necessary to govern.
M5S' Luigi Di Maio has refused to form a government with ex-premier Silvio Berlusconi
'Fresh general election'
Salvini on Friday offered to form a temporary government with Di Maio, saying its mandate could last to December in order to pass the 2019 budget and prepare fresh elections afterward.
But Salvini has refused to ditch his coalition partner Berlusconi and his Forza Italia. "If the M5S doesn't agree, then only a fresh general election remains," Salvini said.
Read more: Matteo Salvini: Italy's far-right success story
According to government sources, President Mattarella is hoping to avoid elections this year. If Monday's last-ditch effort fails, Mattarella could handpick a prime minister to bring together a consensus government.
No to technocrats
Interim Prime Minister Paolo Gentiloni of the center-left Democratic Party, which suffered a historic defeat in the March election, is considered one of the candidates.
That option would require support from either M5S or the League. However, both parties have refused to back such a measure, saying they oppose "technocratic" governments.
"If parliament rejects the president's government, the situation will be very difficult," said Lina Palmerini, an analyst at business daily Il Sole 24 Ore.
From 2011 to 2013, a caretaker government led by Italian economist Mario Monti led the country, but the administration was characterized by austerity and received generally low approval ratings.
ls/ng (AFP, Reuters)
Every evening at 1830 UTC, DW editors send out a selection of the day's hard news and quality feature journalism. You can sign up to receive it directly here.