The leaders of Russia, Iran and Turkey could not reach a ceasefire deal to forestall a Syrian government offensive in the rebel-held province of Idlib.
At a high-level summit in Tehran, Turkey's Recep Tayyip Erdogan, Russia's Vladimir Putin, and Iran's Hassan Rouhani, agreed in a final statement that there could be no military solution to the conflict - only a negotiated political solution.
Hundreds of civilians have fled the northwestern Syrian province of Idlib ahead of the Syrian regime's imminent military action in
the rebel's last major bastion.
The Syrian government has vowed to retake the province, which has been held by the opposition since 2015.
Idlib, which is largely controlled by Hayat Tahrir al-Sham, an al-Qaida-affiliated Islamist alliance, is home to roughly 3 million people – around half of them displaced from other parts of Syria.
Aid agencies and human rights groups warned of a major humanitarian crisis should Bashar Assad's regime launch a military offensive against Idlib's rebels.
Read more: What is Iran's role in Syria if Assad wins the war?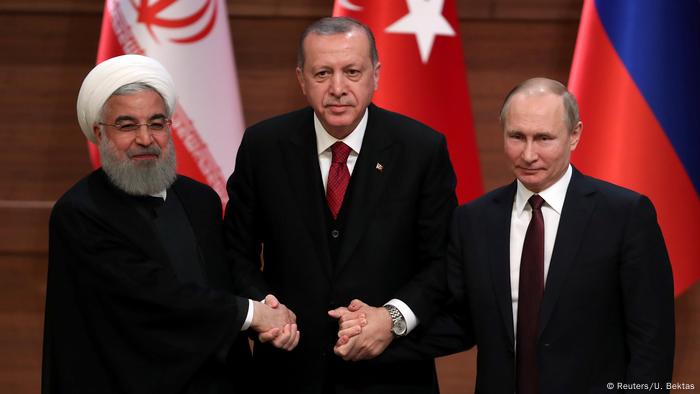 Turkish President Erdogan (center) hopes the Friday summit in Tehran could help resolve issues
Turkey spars with Iran and Russia over Idlib
On Friday afternoon, the presidents of Russia and Turkey took part in the conference in Tehran.
Addressing the summit, Iran's Hassan Rouhani said achieving peace in Idlib was the "ultimate goal."
Russian President Vladimir Putin advocated taking joint measures to "stabilize" Syria but also said that "terrorists must be removed from Idlib."
Recep Tayyip Erdogan, meanwhile, recalled an agreement with Russia last year to make Idlib a "de-escalation zone" of reduced conflict. The Turkish president condemned Assad for massacring the Syrian people.
"We have hosted millions of Syrians... We don't want to see blood in Idlib and we must find a reasonable solution to the crisis," Erdogan said, adding that Iran and Russia should pay heed to Turkey's concerns.
Ahead of the trilateral summit, Turkish President Erdogan also held one-on-one talks with his Iranian counterpart Rouhani.
Last major rebel bastion
The Syrian government and its allies have already amassed a large number of troops near the province for a decisive assault.
Turkey, which backs some factions of Idlib's rebels, is against a potential military offensive on Idlib, fearing it could trigger a massive refugee crisis with desperate Syrians attempting to find safety on its territory.
Ankara criticized Russian airstrikes on the province ahead of the Friday summit in Iran.
But for the Syrian government, recapturing Idlib is vital because the strategically important province borders Latakia, an Assad stronghold and home to the biggest Russian air base in the country.
Samir Salha, a political scientist at Istanbul's Kocali University, says Idlib is important for all international forces. "Those who will prevail in Idlib will prevail across Syria," Salha told DW.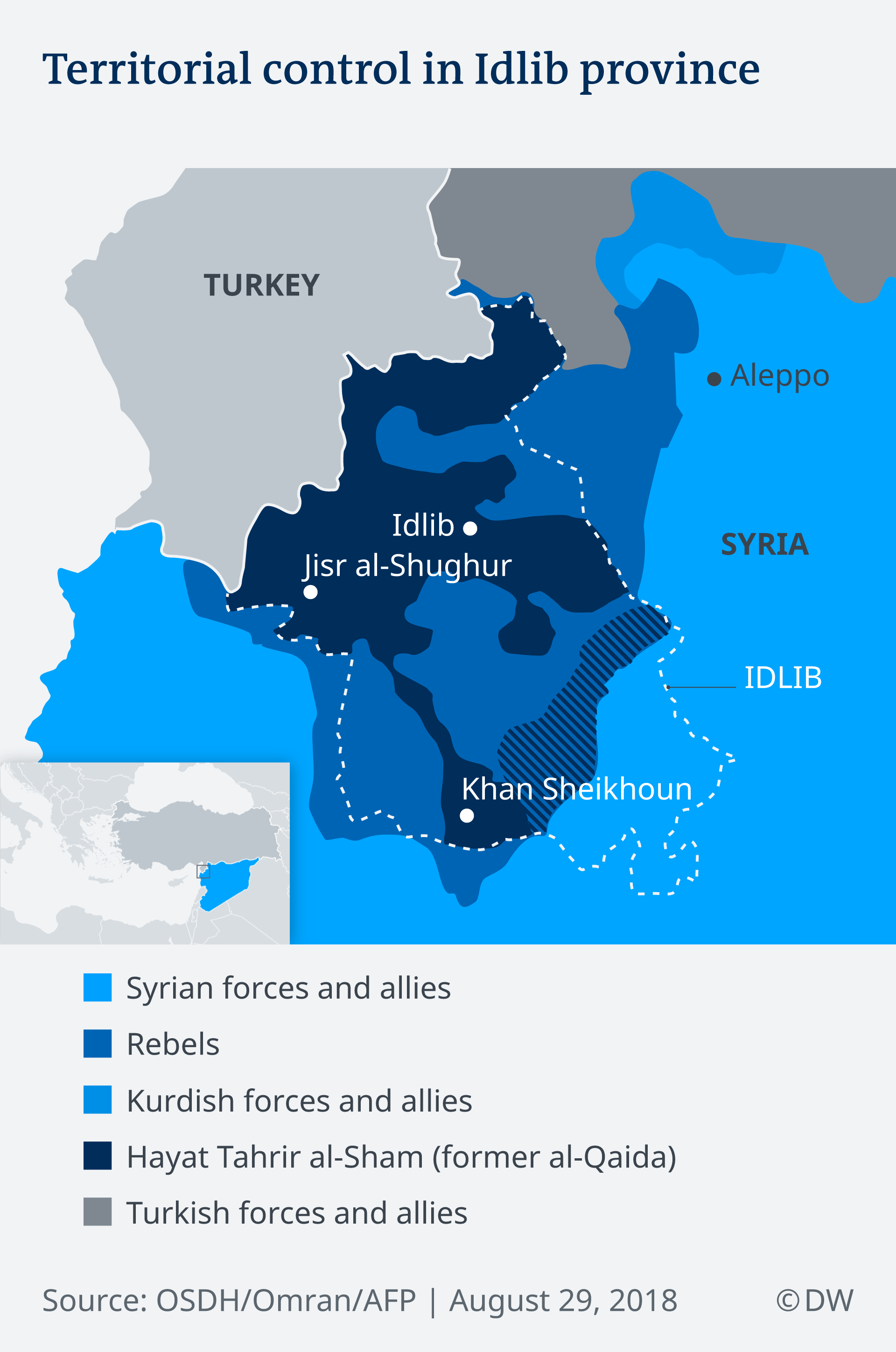 Regime backers Iran and Russia have vowed their support to the Syrian regime in regaining control of all rebel-held areas.
Moscow said the Syrian army was preparing to solve the problem of "terrorism" in the rebel stronghold.
"We have killed, we are killing and we will kill terrorists... whether that be in Aleppo, Idlib or other parts of Syria," said Kremlin spokeswoman Maria Zakharova.
Her Iranian counterpart, Bahram Ghassemi, assured Assad of Iran's support and willingness to "continue its role as adviser and help" the Idlib campaign.
Read more: Merkel to Trump: Russia needed to restrain Syria's Assad from attacking Idlib
US trying to cement influence
President Donald Trump has also warned the Syrian regime against committing a "slaughter" in Idlib.
The US wants to maintain its influence in Syria. After tacitly accepting that Assad will remain Syrian president for the foreseeable future, Washington now wants to at least limit Iran's influence in the country as much as possible.
"The US shares this goal with Saudi Arabia and Israel," said Turkish expert Salha, adding that this objective, however, puts the US on a collision course with Russia.
Abdel Bari Atwan, editor-in-chief of the online Rai al-Youm newspaper, believes that if regional and international powers don't show flexibility on Idlib, the conflict could spread out of Syria.
"The strong presence of US and Russian naval units in both the eastern Mediterranean and the Persian Gulf suggests that the two superpowers are preparing for a regional or even a global confrontation," Atwan told DW.