The chief prosecutor of the International Criminal Court said Friday she would ask its judges to open a formal investigation into alleged war crimes in Afghanistan, in a probe that could include US forces.
Prosecutor Fatou Bensouda said in a statement that a there was "a reasonable basis to believe that war crimes and crimes against humanity have been committed in connection with the armed conflict in Afghanistan" since the US intervention in 2001.
"Following a meticulous preliminary examination... I have come to the conclusion that all legal criteria to commence an investigation have been met," she said.
Read more: Fatou Bensouda: Critics 'don't understand the ICC'
Judges at the Hague-based court would decide whether to proceed.
Bensouda didn't mention which armed actors in Afghanistan should face an investigation, but said "the ultimate focus will be upon those most responsible for the most serious crimes allegedly committed in connection with the situation in Afghanistan."
The request for authorization includes alleged war crimes committed since May 2003 in Afghanistan as well as others committed since July 2002 on territory of ICC member states.
Torture and detention facilities
ICC prosecutors in a report last year said there were "potential cases" of war crimes committed by the Taliban, Haqqani network, Afghan forces and the US armed forces and Central Intelligence Agency.
Possible war crimes committed by the US military and CIA were "not the abuses of a few isolated individuals," prosecutors said in the report.
The allegations against the United States relate to torturing Taliban and al-Qaeda prisoners in Afghanistan and at CIA detention facilities in Lithuania, Poland and Romania in order to obtain "actionable intelligence from detainees."
The ICC was established in 2002 as a world court to prosecute war crimes, crimes against humanity and genocide. It has nearly 120 members.
US not an ICC member
The United States has not ratified the ICC's Rome Statute, meaning any judicial proceedings are unlikely to lead to the arrest of CIA officers or US military personnel. However, Americans alleged to be involved in war crimes could be subject to international arrest warrants.
In not joining the ICC, previous US administrations have cited concerns that US military members or officials could be prosecuted
The ICC only acts when a member state's government is unwilling or unable to pursue war crimes charges. Its jurisdiction is limited to ICC member states, which include Afghanistan, and only if charges were not prosecuted at home.
However, the court is authorized to investigate crimes committed by foreign soldiers on the territory of a member state.
The United States Senate investigated the CIA's "enhanced interrogation techniques" and detention program in 2014 but no one has been prosecuted. The Obama administration in 2009 banned controversial practices including waterboarding, sleep depravation and rectal feeding.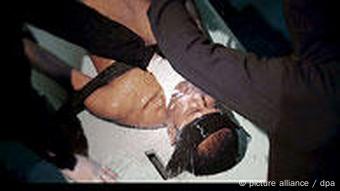 A scene from the Amnesty International film "Stuff of Life" shows a simulated prisoner being waterboarded.
A 2009 US Justice Department investigation into allegations of torture found there was insufficient evidence to bring charges.
ICC prosecutors have also blamed the Taliban for some 17,000 civilian deaths from 2007 to December 2015, including "numerous attacks" on schools, hospitals and mosques.
Human rights organizations welcomed the ICC prosecutor's decision to seek a formal investigation in front of a tribunal.
"This is a seminal moment for the ICC," said Amnesty International's head of International Justice, Solomon Sacco.
"Justice for victims of the Afghanistan conflict has taken far too long to arrive, but investigations like this one are the reason the court was set up — to provide a last chance for justice when state parties have failed to deliver it," he said.
cw/bw (AFP, AP, Reuters)