Chinese President Xi Jinping concluded a two-day visit to the Philippines on Wednesday after signing 29 bilateral agreements, including a memorandum of understanding with Manila on oil and gas development in the South China Sea (SCS).
Read more: South China Sea - what you need to know
Xi and Philippine President Rodrigo Duterte also discussed matters related to defense, security, maritime cooperation, law enforcement, and transnational crime.
Xi's Philippines visit was the first by a Chinese president in 13 years and is seen as an effort to cement newly improved relations between the two countries that have been locked in bitter dispute over maritime claims in the SCS.
Alfonso Cusi, the Philippines' energy secretary, hailed the bilateral deals as a "solution" to how the two countries could benefit from resources in the contested waters.
However, this new détente between China and the Philippines also has consequences on land. Indigenous Filipinos are protesting one of the deals, which allows China to build a dam on land occupied by indigenous people.
Deals shrouded in 'secrecy'
On Wednesday, a group of protestors held a demonstration outside the Chinese Consulate in Manila, lambasting the Duterte administration's "acquiescence" to China.
"President Duterte is giving the country away to China. I am disgusted and it makes me angry," Max Soriano, a member of the Akbayan Citizens' Action Party, told DW.
Jay Batongbacal, a maritime expert, said it was obvious that the purpose of Xi's Manila visit was to convince the country's authorities to allow energy exploration in the SCS.
Batongbacal, however, added that it is too early to say if the bilateral deals would result in a "debt trap" for the Philippines, as there aren't enough details currently available on the agreements.
"I find it unusual that there are no details [about the signed deals] available to the public. We are left guessing. That is why the public needs to remain vigilant and keep demanding transparency from the government," Batongbacal told DW.
The expert also said that it is likely that other agreements would be signed at a later date. If that happens, it would make it even harder to assess the impact of the deals, Batongbacal warned.
But Salvador Panelo, a spokesman for President Duterte, assured that "the government will release all pertinent information for public consumption once President Xi's visit has culminated and as soon as the complete, proper and correct documents become certified and available."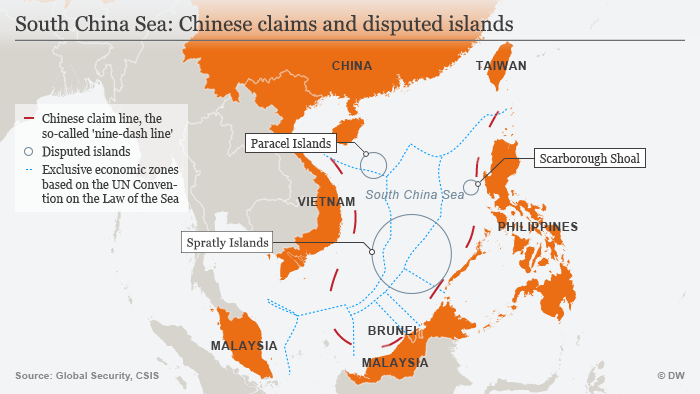 Territorial disputes
A territorial conflict over the SCS has strained relations between Manila and Beijing. The area is located in the western Pacific Ocean and is an important shipping route where an estimated $5 trillion worth of trade passes every year. There are also reportedly large deposits of oil and natural gas.
Tensions between the two countries escalated in 2012, when the Chinese Coast Guard barred Filipino fishermen from fishing in Scarborough Shoal, located off nearly 200 kilometers (120 miles) off the coast of Subic Bay.
Manila took the matter to the Hague-based Permanent Court of Arbitration, which ruled in favor of the Philippines, ruling that China had no basis for its sweeping territorial claims over the entirety of the SCS.
But unexpectedly, President Duterte refused to enforce the historic ruling, arguing that his country does not want to go to war with China.
Read more: Philippines' Duterte scales back building work in South China Sea spat
Political analyst Ramon Casiple dubbed Xi's visit "a success." He criticized the hardline position of the previous government for straining ties between China and the Philippines. "It raised tensions in the area and did not benefit our people," he told DW.
"The reality is that we shouldn't fuel tensions. The Duterte administration realizes that the Philippines needs to negotiate with China. We should support this negotiation process because it is yielding results," Casiple said.
A Chinese puppet?
But Jose Antonio Custodio, a security analyst, said that Manila is compromising on its interests by cozying up to Beijing.
"Duterte has compromised our sovereignty for the sake of his parochial interests," Custodio told DW.
The analyst said that China's interests go beyond the Philippines, as it is seeking a greater presence throughout the Pacific.
Last month, two politicians in New Zealand reportedly accepted campaign funds from a donor with ties to the Chinese Communist Party in exchange for adding two businessmen to a list of candidates for their country's parliament.
"Duterte also thinks that with China as his political guarantor, he can remain in power," said Custodio.
"The Duterte administration is already a Chinese puppet. The Philippines is now viewed by other countries as an obstacle to regional cooperation," Custodio added.
Read more: Is the Philippines' Duterte playing China against Japan?