German police have been accused of caving to political pressure to secure convictions following the G20 riots in early July, after a Polish art student who took no part in the protests became the first man to be charged with any offense - more than a month after the riots took place.
The 24-year-old man from Warsaw, named only as Stanislav B., has been charged with violations of weapons and explosives laws, as well as unlawful assembly. He was arrested at a Hamburg railway station and found carrying pepperspray, some firecrackers, and two marbles.
Read more: A look at left-wing radicalism in Europe after G20
Hamburg prosecutor Carsten Rinio says Stanislav B. was detained an hour before a planned protest in central Hamburg, and that the objects found on him could, in that context, be defined as weapons. A prosecutor's spokesman told DW that he was on his way to a protest in the city.
The man, who speaks no German, has been in custody in Hamburg since the G20, and his lawyer, Jonathan Burmeister, says state prosecutors clearly felt that time was running out to find charges to pin on the man.
Hitchhiking holiday
"The case is crazy," Burmeister told DW. "There isn't even an pressing suspicion of having committed a crime. He was arrested near a railway station. There wasn't a demo happening there."
"He was on his way through Hamburg - he wanted to hitchhike to Spain to go camping," he added. "He had pepper spray on him to defend himself while sleeping outside - which he's carried around with him for a long time. And the firecrackers are smaller than your smallest finger - someone gave them to him, and he thought they were fun. The two marbles were a souvenir from a glass-maker in England from an exchange program a few years ago. They're very expensive."
Read more: Berlin's leftist scene under pressure after G20 violence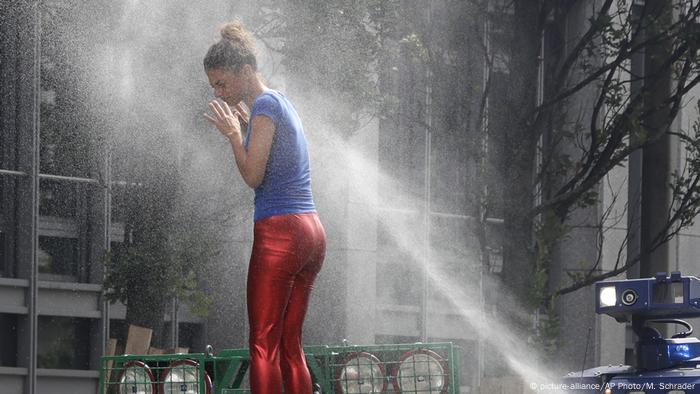 Police were criticized for escalating the violence during the two-day summit
Pressure to press charges
Burmeister, who said his client is "not in a good state," is convinced that Stanislav B.'s imprisonment and charges are down to the political attention the riots attracted in the aftermath of the attack.
"This can only be explained as politically motivated," he added. "There are a thousand other reasons to assume this. He was poorly treated, he didn't get a change of underwear, my letters weren't passed on to him. There is clearly political pressure to scare these people away."
Read more: After G20, Hamburg mayor says he is sorry
Burmeister also believes the state prosecutor has no real reason to keep his client in custody. "It's a scandal that he's in prison. Putting someone in investigative custody has to be proportionate - it's the toughest censure we have in criminal investigations," he said. "And the crimes he is being charged with are virtually petty offenses. My client has never come to the attention of police before - there's absolutely no reason why they can't just send him a letter summoning him to court. If he didn't come, they could easily have him arrested in Poland."
Read more: Germany asks EU for help following Hamburg G20 protests
In response to this, the prosecutor's spokesman said that Stanislav B.'s procedure had been unusually quick so far. "His court date is at the end of August - that would mean he had been in investigative custody for less than two months," he said. "The prosecutor considers this proportionate, and the process has been carried out vey quickly - and the court clearly sees it the same way, since it upheld the investigative custody decision."
Lukas Theune, a lawyer representing a number of left-wing activists, says that a lot of people have been put in investigative custody for very minor alleged crimes. "I've never heard of anyone being put into detention for a violation of the laws of assembly," he said. "It's affecting Stanislav B. in a very crass way, but it affects a lot of other people in Hamburg too. Individuals are being punished for the events in Hamburg as a whole - that's explicitly political reasoning."
Hamburg prosecutors say they are currently pursuing 162 investigations in relation to the G20 riots, during which shops were plundered and several cars set on fire. Over 50 people were put in investigative custody at the time, though around a third of those have since been released.