On the afternoon of Sept. 27, 2016, several Syrian refugees aged between 13 to 16 were on their way to a cultural center to take part in a theatrical performance about their lives in Syria, carrying plastic toy guns as part of their costumes.
What happens next is disputed by Greek police. A police bike unit allegedly intercepted the children and took them into police custody at Omonia police station on suspicion of being members of an armed group. Two other Syrian refugees with them, aged 24 and 21, were also taken into custody.
An activist began to highlight what was happening on Facebook, and human rights lawyer Electra Koutra was invited to become involved by assisting the parents and children in their reporting of what happened.
According to a statement on her own Facebook page, she said that the children were ill-treated by the police, separated from the adults, humiliated and forced to strip. When the youngest, aged 13, objected in tears to removing his underwear, he was thrown against a wall. They were forbidden from contacting their family members to let them know what was happening.
Sitting at her dinner table strewn with legal documents, she recalls what happened next. "I was prevented repeatedly from properly representing my clients. One child, who has received therapy for witnessing the torture of family members in Syria, was interviewed from 1:30 am until 4:30 am, not allowed contact with his father and me, despite the complaints we raised. Being forced to wait in the hall for hours in front of a guarded closed door, knowing that the rights of the child were being violated and not being able to do anything about it was a traumatic experience for me," she told DW.
Electra Koutra says this isn't the first time she's been targeted by police for her work trying to protect vulnerable groups
Outrage
Her social media rant about the events went viral, prompting 21 questions in the Greek parliament while Amnesty International also got involved. It has since been reported by Greece's Kathimerini newspaper that the police officers in question were part of a specialist anti-terrorism unit collaborating closely with the CIA and that their object of interest was the laptop carried by one of the adults.
The adults were questioned about ties to terrorist groups and it was reported that none of their papers were checked throughout the ordeal. When the parents of the children arrived to collect them, no verification was carried out to ensure they were the minors' parents. The four officers who headed the assault have since been demoted.
In a statement released soon after the event by Amnesty International, the organisation's Director for Europe, John Dalhuisen said: "The police must ensure that incidents such as those alleged must never take place. One key question they should ask is, 'Would this have happened if five Greek children had been found carrying toy guns in the street in Athens?'"
Less than two days later, Koutra and a trainee lawyer working on the case were served with a court summons in which they were listed as suspects. When they challenged this wording and demanded access to the case file, a right granted under Greek law for suspects, the summons were re-issued with the two women described as "witnesses."
Lawyer harrassment
The following day, Koutra called the emergency services after two men in civilian clothes entered the grounds of her private property, allegedly in an unauthorized manner by manually opening the garden door from the inside. "My child was very scared," she said. "My home address is not listed anywhere on the public record, and it shouldn't be. I am a lawyer, my office is my address for any authority."
When an emergency response team arrived, they confirmed the two men as being their colleagues. "I lost it," said Koutra. "One of the men was very apologetic, but the other said 'I know you are against the police.'"
Koutra says she then turned to the Head of Prosecutors to ask for her family's protection, by removing her home address from the case file. However, says Koutra, the opposite happened. "Not only was it not removed, but the report I lodged for my protection became part of the case file as well, further exposing my family to retaliation by the reported policemen who can easily get copies of the file."
An internal document was then allegedly leaked to the Greek press that police stations were increasing security measures nationwide in order to protect officers from a possible "strike against police" naming a "possible response to Ms Koutra's report" as the reason for this step.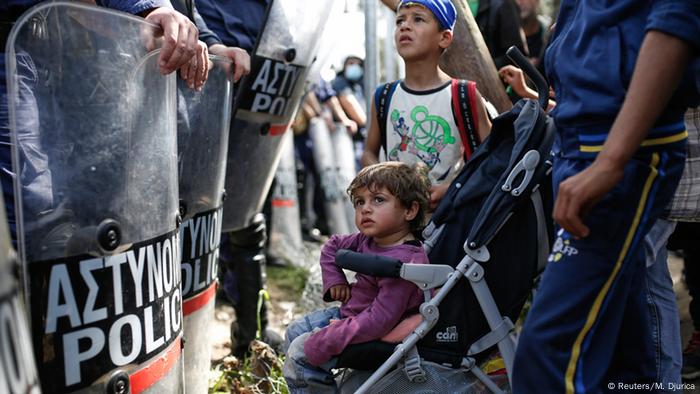 Police treatment of refugees has not always been at its best
Devastated
"This really devastated me, because in all of this, the fact that I have always fought against indiscriminate violence and represented over 1,000 Greek police officers for violations of their own human rights has been ignored. Can you imagine the entire police force of Greece saying my actions as a lawyer are behind them feeling unsafe and needing more security, while I don't even allow the derogatory term 'cops' in my Facebook timeline?"
This isn't the first time that Koutra has been targeted by police. In 2013, the World Organisation Against Torture highlighted an incident in Thessaloniki when the lawyer was detained in a police cell for 20 minutes after demanding access to a transgender client. The police station refused to file a complaint. She filed the complaint that same night at another police station. In 2015, prosecutors closed the case, judging that Koutra had willingly locked herself in the cell. The police officer in question lodged a civil action against her for 80,000 euros alleging "defamation."
One of her Koutra's main concerns is that such events will put younger colleagues off human rights work. "After this, some team members have been discouraged from active involvement in the Pleiades probono lawyers' team. It really is a loss."
Meanwhile, the seven refugees at the center of the case are bringing charges of illegal physical checks, physical and psychological violence and arbitrary deprivation of liberty. Repeated attempts by DW to reach the police station in question and the Greek police's press office were unsuccessful.