Authorities are automatically suspicious when they encounter refugee children traveling through Europe alone. According to Europol, the EU law enforcement agency, 10,000 unaccompanied minors have apparently disappeared after entering the bloc, though many of those have likely fallen through the cracks of sloppy national bureaucracies. Aid workers in Gevgelija, a Macedonian town on the border with Greece, say the number of women and children on the run has been rising. According to statistics from the government of Macedonia, 75 percent of refugees who arrived in the country last summer were men, but now women and children make up two-thirds of the people seeking to transit the country en route to the European Union.
"At first, people wanted to test the system," said Jesper Frovin Jensen, who works for UNICEF in Gevgelija. "Young men broke the ice." But as the situation in war zones has deteriorated, Jensen said, waiting at home is no longer an option for many people. "Besides, the smugglers cannot fill their ships in these weather conditions and are thus lowering prices," the Danish aid worker said. "That is the green light for those who previously could not afford the journey."
And, with several countries trying to deny or delay reunification, families are increasingly fleeing together rather than sending a single member ahead - that means that children, too, must brave rough seas and the frozen wastelands of the Balkans.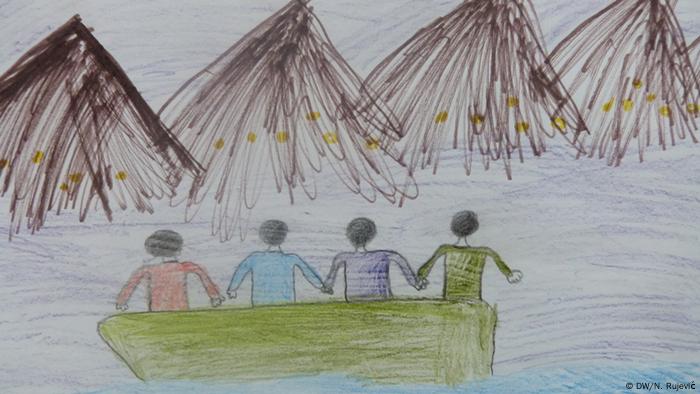 The journey to Europe through a child's eyes
A closing door
Refugees are not just coming to escape ongoing wars in their home countries or reunite with family members living in Europe: They also fear that "Fortress Europe" will soon pull up its last drawbridge. Many refugees are aware that the mood is changing in Europe at the moment. People who might have excitedly shown pictures of "Mama Merkel" on their cellphones just a few months ago worry that the welcome culture Germans had touted until recently will soon be history. "Mothers and their children are now in a hurry," said Elma Dzankovic of the aid organization Legis.
The helpers in Gevgelija have noticed the refugees' increased urgency and find themselves having to remind their charges that they must wait for police permits before they are allowed to leave the camp and continue their journeys toward the European Union.
Dzankovic thinks it is dangerous that there is no time for real social work. The volunteer knows that Macedonia alone has counted more than 18,000 unaccompanied minors. "We have come to realize that some people pretend the unaccompanied children are theirs in order to procure falsified documents," she said, without citing the source of this information. People have terrible suspicions of child trafficking - even organ trafficking. "We are lacking qualified social workers and pedagogical professionals who can determine whether a child belongs to a family," she said. "But the people only stay here for a few hours and the problem is then exported to the next country."
Critics also find fault with the way unaccompanied children are treated. Only the very small ones who cannot find any relatives around them are sent to a center in the Macedonian capital, Skopje. Otherwise, workers search for a so-called "guardian" who is prepared to take care of a minor on their journey. "These young people only have one thing on their minds: moving on," said Frovin-Jensen, the UNICEF coordinator. "They will become even more vulnerable if they are denied the continuation of their journey with a familiar group of people."
Anamarija Schram knows how important it is for children to see familiar faces around them. The young Red Cross helper is responsible for reuniting families in Gevgelija. "Often, people lose their children on the road or family members get on different buses," Schram said. Her job is frequently stressful. A few hours before reporters spoke to her, a boy had disappeared from the camp. Schram found him on a bridge a few hundred meters away. She said seeing his parents take their child in their arms was the greatest reward for her.