Sixteen people were killed in a series of terrorist attacks on the offices of the French satirical weekly Charlie Hebdo and other locations in Paris on January 7-9, 2015. It was headline news around the world for days, if not weeks. Across the globe, presidents and prime ministers took time out of their busy schedules to express their outrage and condolences. The slogan "Je suis Charlie" was born to signify support for press freedom.
As many as 2,000 people were killed in a series of terrorist attacks in the northeastern Nigerian town of Baga and the surrounding area between January 3 and 7, 2015. Even today the number of dead remains unclear. The city of 300,000 on the banks of Lake Chad became a ghost town. The news hardly made a dent in the international media, which was avidly reporting about Charlie Hebdo. The president of Nigeria played down the death toll.
Read more: War reporters — the great silence
This, said Malam Umar Sa'id Tudun Wada, is an example of how inequality permeates media coverage. The managing director of Nigeria's Kano State Radio Corporation was one of four journalists called upon to discuss reporting on terror at the Global Media Forum, an international media conference hosted by Deutsche Welle, in Bonn on Monday.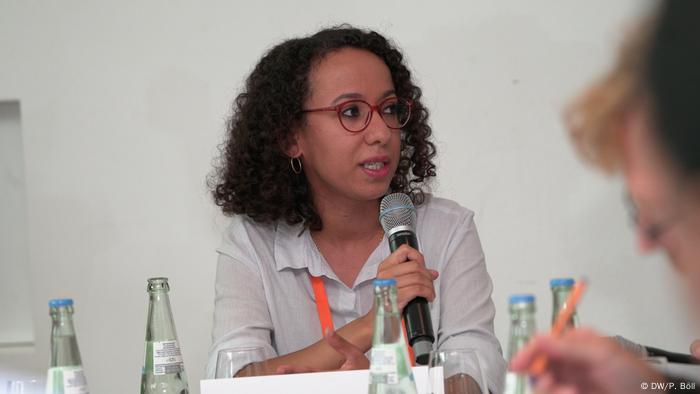 Afrah Nasser gained notoriety as a blogger
Yemeni-Swedish journalist Afrah Nasser knows exactly what Tudun Wada is talking about. "Yemen is never breaking news," she said. Indeed, there is little coverage at all in the international media of the conflict that began more than three years ago and which involves a Saudi-led coalition, rebels, Houthis, US drone strikes, famine and cholera in the world's poorest Arab country. Its complexity means that few media organizations are willing to spend the time on it. Foreign journalists cannot enter the country, while "there is no Yemeni press anymore," she underlined.
But even if information were available, Western audiences don't want it, said Reinhard Baumgarten, a reporter with Germany's ARD public broadcaster in Turkey. "People are flooded with information these days. It's too much. People [only] have a specific capacity to digest bad news," he said, adding: "Cholera in Yemen doesn't sell."
It may, however, if the victims are Western. Baumgarten said the demand for stories from him and his colleagues was high after 10 German tourists were killed in a suicide bomb attack in Istanbul in January 2016, while @Mosul Eye founder Omar Mohammed said he saw a massive uptick in media requesting to interview him when Westerners were killed by "Islamic State" militants during the three years they controlled the Iraqi city.
How to tackle terrorism
Beyond the laments about an international media landscape that shows tepid interest in conflicts that destroy homes, cost lives and leave whole societies traumatized, the question of how to tell stories that attract attention came up over and over again during the discussion.
Omar Mohammed described how IS terrorists made thousands of professional videos to get their messages across, searching for the right camera angle before carrying out a beheading on the streets of Mosul. But, he said, their high-quality productions did not give them credibility. "I realized that my rhetoric was more powerful than [Islamic State] because it came from a civilian."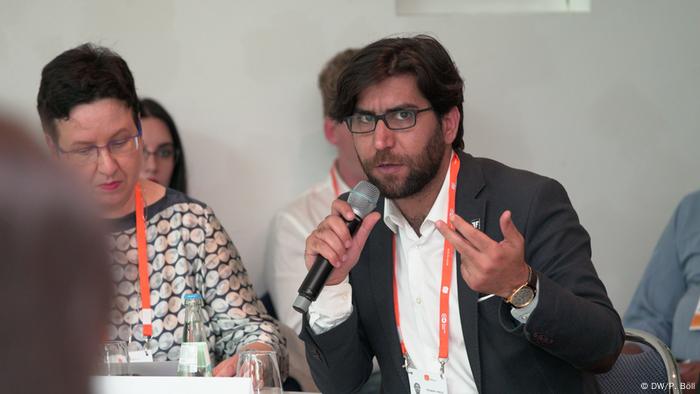 Omar Mohammed was one of the few sources of information from Mosul when Islamic State controlled the city
He changed his own approach in early 2015. "I saw media was no longer interested in groups being killed." This was at a time when daily life in Mosul involved public beheadings, women being stoned to death and people being thrown from buildings. He began to focus on the people's individual stories. His Twitter feed, where he posted anonymously, was one of the few sources of information from inside the so-called caliphate. He stressed the importance of verification and that he only reported on events he could personally verify.
Read more: What makes young Africans join jihadi groups?
This issue is frequently a problem for media organizations that do not have their own staff on the ground, as is the case in Yemen. Afrah Nasser made an impassioned plea for support for local journalists, and especially women journalists, who have access to different stories from men. "Save Yemeni journalists, support them where you can," she said. And she called on producers and editors to invest time and energy. "It may take long."
Tudun Wada said journalists should look for positive ways to report on terror and spoke of a Nigerian radio show that put people on air who were looking to locate lost family members. While this, he said, was a job for local media, international media could report about the program and inspire people in other conflicts.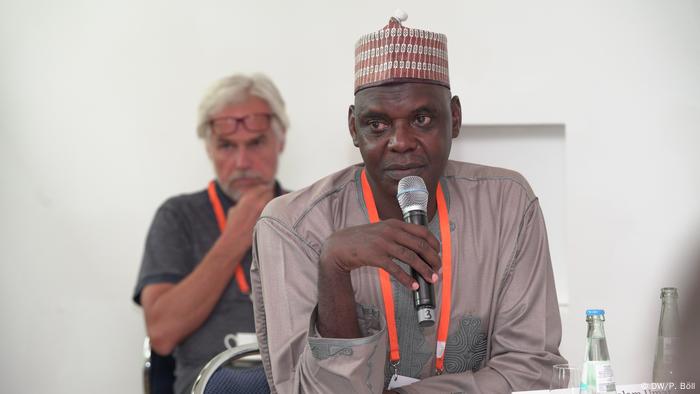 Malam Umar Sa'id Tudun Wada has worked for years in a region where Boko Haram terrorizes people
But what reporting on terror really comes down to, he said, is sacrifice on the part of individuals. "The sad fact is the journalist has to be courageous enough to cover terror." He will not be paid well or have much, if any, chance to bask in success, and he will not have insurance to cushion the blow if something happens to him, he added. "Give him the knowledge of how he can protect himself."
But there is no real protection. Only courage.