The German government said on Friday that it had no direct evidence of Qatar funding the so-called "Islamic State" ("IS") group active in Iraq and Syria.
"If there were misunderstandings, we regret these," foreign ministry spokesman Martin Schäfer told reporters in Berlin, after Development Minister Gerd Müller (pictured above) told public broadcaster ZDF earlier in the week that efforts to cut off "IS" funding had the "keyword Qatar."
Schäfer on Friday said that Qatar had contacted the government in Berlin over the comments, and called the Gulf monarchy an important partner for Germany. However, he said that there were several issues, "where we are not always of the same opinion."
Müller's development ministry said in a statement that the Bavarian conservative was referring to press reports, not concrete intelligence gathered by Germany, when making the comments. Despite several reports linking financiers in Sunni Gulf states to the "Islamic State's" advance, Müller's claims were the first of their kind from a top-ranking politician in a major country.
'Personnel who can shoot'
As part of the continued troubleshooting efforts in Berlin on Friday, the defense ministry had to turn its attention to a newspaper interview from another of Merkel's cabinet members. Defense Minister Ursula von der Leyen was asked in an interview with the weekly newspaper Zeit whether either of the next two World Cup venues might be changed: owing to Russia's annexation of Crimea and to the allegations of Qatar supporting IS.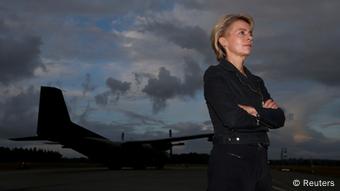 Von der Leyen's soccer quip might also have irked Qatar
Von der Leyen sought to use some soccer wordplay in her response, saying: "Wherever the games are played, Germany will send personnel who can shoot."
"Of course it was a joke," von der Leyen's spokesman, Jens Flosdorff, told reporters in Berlin on Friday, before adding: "The minister stands by her comments."
Angela Merkel's spokesman Steffen Seibert said he considered it unwise to place to much stock in the comments, but would not be drawn when asked whether he considered the statement appropriate in tone.
"I am not here to grade the interviews given my members of the federal government," Seibert said.
Qatar's hosting of the 2022 World Cup has also come under hefty criticism, on grounds including mistreatment of foreign staff working on projects tied to the competition. FIFA is also internally investigating allegations of corruption in the bidding process won by Qatar, with the delayed results currently scheduled for September.
msh/kms (dpa, Reuters)