With a turn of earth, German Chancellor Angela Merkel and the heads of the Swedish energy giant Vattenfall inaugurated the construction site for the world's first CO2-free coal-fired power plant, scheduled to go into operation in 2008.
For Vattenfall, which has invested 50 million euros ($ million) in the facility, the plant will be a door to a future that is increasingly under threat from global warming, which is thought to be caused by emissions of gases such as carbon dioxide into the atmosphere.
The plant is to be located near the border between the eastern German states of Brandenburg and Saxony, where the energy heart of the former East Germany once beat. But the large plant which once provided the communist state its energy is but a shell now. Just next door, however, Vattenfall hopes to write "coal history," according to its CEO Lars Joseffson.
"This investment in a new technology should pave the way and be a model of high-tech power generation on the basis of coal," he said. "It will be a plant with high efficiency and the latest in environmental technology."
Cleaning and separating
The process by which clean energy is produced from coal is called Oxyfuel. The coal is burned in a steam chamber with pure oxygen. The resulting smoke is cleaned, separated from the carbon dioxide and liquefied.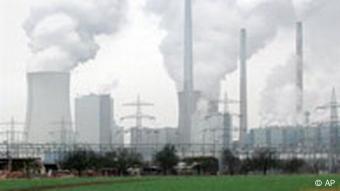 Preussen-Elektra coal fired power plant in Hesse, Germany
However, this technology does have a few snags. For one, efficiency suffers during the process. Traditional coal plants turn about 45 percent of the coal used into electricity. With the Oxyfuel process, around 35 percent of the coal becomes power. The process is also not cheap and experts estimate the costs for separating and storing a ton of CO2 at from 25 to 40 euros.
Storing the gas is also a challenge. At present, gas and oil fields, coal seams and salt mines are under discussion.
Coal stocks healthy
One of the biggest advantages of the new process is the availability of coal, stocks of which in Germany should last for another century.
"Innovative technologies are needed especially in eastern Germany, where coal is firmly anchored," Chancellor Merkel said. "But the significance of this process goes beyond Brandenburg. The future of generating electricity from coal is a concern for all of Germany."
Such words do not sit well with environmentalists, many of whom would like to reduce any dependence on fossil fuels. On Monday, protestors from the environmental group BUND blew whistles and shouted slogans to stop using coal all together.
But Merkel said that the coal plant pilot project is attracting attention from abroad and that it, along with German know-how and technological innovation, could become a powerful export possibility. But that could take some time. If the technology works once the pilot plant is built, Vattenfall wants to build a 300-megawatt facility by around 2015. Estimates are that the technology could be commercially viable by around 2020.