Were Sigmar Gabriel and Jacek Czaputowicz just playing nice for the cameras when they stood before the press at the German Foreign Ministry in Berlin on Wednesday, or is the German-Polish relationship better than many observers say? Ties between the two countries have certainly been better. Berlin has been critical of Warsaw's controversial judicial reforms, while Poland has angered German authorities by demanding World War II reparation payments and stirring anti-German sentiment domestically. In the midst of all this, Jacek Czaputowicz, Poland's new foreign minister, sat down for a meeting with acting German Foreign Minister Sigmar Gabriel.
Reparations issue settled?
Talks ran 30 minutes longer than planned, which many observers took as a good sign. Gabriel welcomed the fact that Czaputowicz made Germany his second foreign trip in office after visiting Bulgaria. The two ministers appeared to get along, despite all the recent diplomatic tension — perhaps in part because Czaputowicz made it clear in an interview ahead of the meeting that the issue of war reparations was not pressing, and should certainly not be a stumbling block in German-Polish relations. Gabriel agreed, saying that under international law and from a legal point of view, the issue has been settled and "there is no claim to additional payments." But the German government understands that fierce debate remains in Poland about the matter, Gabriel added.
That debate was launched last year by Jaroslaw Kaczynski, head of Poland's ruling Law and Justice Party (PiS), who accused Germany of shirking its responsibility for World War II. Gabriel and Czaputowicz told reporters that they hoped to resolve the dispute by a bringing in an outside group of experts to examine the issue.
Controversial justice reform
Wednesday's meeting managed to skirt perhaps the thorniest issue in the side of German-Polish relations: The European Commission's decision last month to launch judiciary proceedings against Warsaw for its controversial judicial reforms — a move that could result in a loss of the country's voting rights in the EU.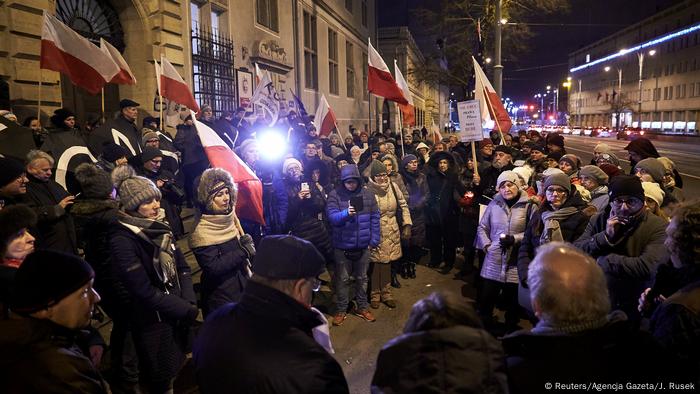 Poland's controversial judicial reforms have sparked protests around the country
Authorities in Brussels say the reforms place too much judicial control in the hands of PiS politicians, and are a clear break with the division of powers common in Western democracies. The recent government reshuffle in Poland with Czaputowicz being named foreign minister was regarded as a signal that the country is keen on improving relations with the EU, despite the disagreement over the judiciary.
A step forward
That seems to be working, at least as far as the atmosphere on Wednesday is concerned. Gabriel praised Poland as the first country in the Eastern Bloc where people openly urged opposition to Communism. Poland's subsequent accession to the EU "made Europe so much stronger," he said.
Czaputowicz was more cautious in his wording, pointing out the importance of the EU presenting a united front, in particular beyond its borders — including the fight against terrorism and national security more broadly. However, that united front was less important when it came to domestic politics, he said, in what could be interpreted as a reference to just how much unresolved tension remains between Poland and the EU, Germany included.
Poland plans next month to justify its controversial judicial reforms to Germany. "And we'll listen," Gabriel said.