In the eyes of the German government, a project to train Belarusian police was no mistake. The program ended last year.
Germany's Interior Ministry and Foreign Office issued a statement saying the cooperation came at the request of the government in Minsk. They added that the police program was one of several bilateral projects initiated in 2008, when it was still hoped Belarus would further open up to the west and the European Union.
Additionally, the ministries said all collaboration had been agreed on with the EU, which temporarily lifted sanctions against the Belarusian regime. But once it emerged that Belarusian President Alexander Lukaschenko was involved in manipulating 2010 presidential elections, Germany cut back on training Belarusian police and eventually stopped altogether.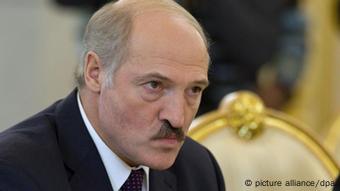 Lukaschenko has steered his country into isolation again
"More comprehensive cooperation with official bodies in Belarus is currently not an option," said Foreign Office spokesman Andreas Peschke.

Anything done in 2011 would have been "remainders of earlier assignments that had to be completed," the Interior Ministry stated. It added there was never any arms training.
Protest control
Berlin daily newspaper Tagesspiegel reported details of the project on Friday (24.08.2012). According to the report, between 2008 and 2011, German officers trained almost 400 Belarusian border patrol officers as well as high-ranking militia personnel and criminologists. About 100 Belarusian staff also received training in Germany.
German federal police staff led the training. According to the Interior Ministry, the main purpose of the training was to teach policing methods for large-scale incidents. One example was the Ice Hockey World Championships, held in Germany in 2010 and scheduled for Belarus in 2014. Other topics reportedly included corruption control, border policing and immigration procedures at airports.
The Interior Ministry also confirmed that in November 2010, Belarusian security personnel accompanied German police officers as observers while authorities secured the Castor nuclear waste convoy. As the convoy followed its route to Gorleben in Lower Saxony, German police used water cannons, tear gas and batons on protesters in an operation involving 20,000 officers.
Cooperation over
The German government rejected allegations that training conducted by its officers was essentially about how to suppress large-scale demonstrations.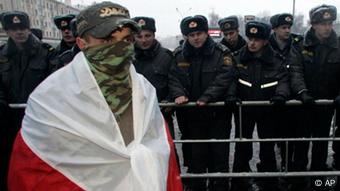 Belarusian police were to learn "awareness of the rule of law"
Spokesman Steffen Seibert said it was important to recall that "the basic attitude of the German police - even during large-scale incidents - is one of fairness, transparency and respect towards the citizens, and [to be] free of violence as much as possible."
Seibert said these practices were a core aspect of the training for Belarusian police, and that the objective was to promote awareness about democracy and the rule of law.
These days, the German government says there will be no more training for police working for autocratic Belarus. The last seminar took place in October 2011. Still, a German police officer specializing in border patrol has served as a liaison at the German embassy in Minsk since 2010.