When it comes to drinking water, Germans are well known for reaching for plastic bottles instead of turning on the tap. But those who still turn to tap water for their hydration and household needs are now paying more for every drop; the price of tap water in Germany rose on average over 17.6 percent between 2005 and 2016, an evaluation from the pro-environment Green party has found.
The evaluation, which was reported on by German public broadcaster ARD, attributed the rising prices to nitrate pollution from agricultural production and manure.
While the average national price has risen, the evaluation pointed out that the costs for tap water varied across Germany's 16 states. Municipalities within each state set their own base price for water usage per cubic meter (1,000 liters).
Eastern states Berlin and Brandenburg and central state Thuringia saw water prices fall over the 11-year time span, while costs in southern Bavaria grew more than in any other state, rising just around 60 percent.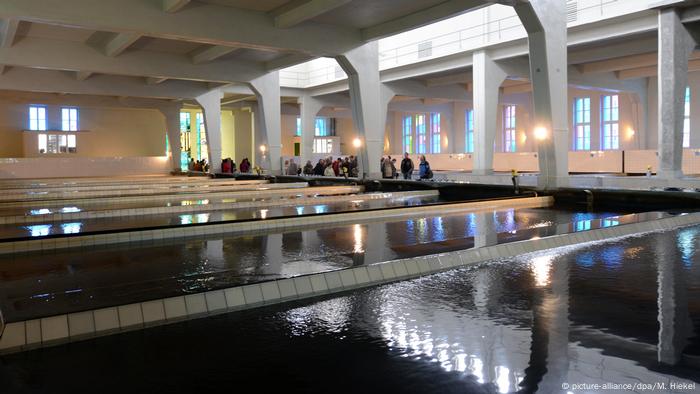 Water purification plants, like this one in Saxony, must remove the nitrates in to-be tap water in an expensive process
However, the state with the highest overall base cost for tap water was the western state of North Rhine-Westphalia. Households in the industry-dense region saw people paid on average €300 ($357) per year between 2005 and 2016. Tap water was cheapest in Berlin, costing around €173.
The Green's parliamentary party based its evaluation on statistics from the Federal Statistical Office (Destatis).
Nitrates must be purified
Green politicians, as well as the Federal Environmental Agency and federal energy and water suppliers all attribute the rising average tap water costs across Germany to one key factor: nitrates from industrial and agricultural activities that have seeped into groundwater.
The nitrate runoff, which comes from mineral fertilizers as well as liquid manure, causes purification costs to go up.
Read more: Report: Nitrate threatens groundwater in Germany
"Groundwater is often over-contaminated with nitrates precisely in areas with land used intensively for agriculture," the Federal Environmental Agency said in 2017.
The head of the Green's parliamentary party, Anton Hofreiter, said that the rising cost of tap water was a consequence of the agribusiness policy promoted by Angela Merkel's coalition government:
"When the federal government lets agribusiness flood our land with liquid manure, tap water consumers are left with the bill," Hofreiter said, describing the groundwater pollution as a "scandal."
The Green party is currently a member of the opposition.
EU not happy with German nitrate use
In 2017 Angela Merkel's previous coalition government oversaw an amendment tightening the use of fertilizer after the EU Commission took Germany to court for failing to abide by the bloc's regulations on nitrates.
However, the amendment did not go far enough for the Green party, which has called for a strategy to deal with excessive use of nitrate fertilizers.
German consumers also have to pay for wastewater disposal. These costs are calculated separately.
Editor's note (18.05.2018): The original version of this story stated, following information from the Green party, that the price of tap water had risen by 25 percent, not 17.6 percent, between 2005 and 2016.
Each evening at 1830 UTC, DW's editors send out a selection of the day's hard news and quality feature journalism. You can sign up to receive it directly here.