As the debate rages about how to best integrate refugees into German society, a student organization in the western city of Cologne has taken matters into its own hands.
The "Soccer Without Borders" project, where students and migrants come together for regular football matches, came about after a refugee center opened near to the Elisabeth-von-Thüringen high school in Cologne's university district.
Many migrants complain of not just being disconnected from German society, but also from other refugees, organizers said.
The school and city's students' representative body Bezirksschulerinnenvertretung (BSV Köln) told DW they wanted to connect local pupils and migrants without the need for language while giving newcomers something to do as they wait for their asylum claims to be processed.
Migrants deserve better
"We think the current situation is a tragedy... people who come here for fear of being killed in their homeland don't deserve to be verbally abused and discriminated (against). So we decided to help them," said Joram Eickhoff, a BSV Köln board member.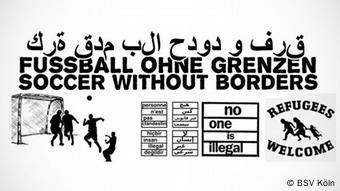 Posters were put up in school and on social media
Posters were put up at the refugee center, at school and on social media calling for players of all ages, sex and origin. One nearby school has a class of refugee children, and they were encouraged to sign up. The matches are free, and if any player doesn't have boots, they can be provided, organizers said.
So far, around 15 refugees – mostly from the Middle East and Central Asia - and a similar number of students have begun playing the Sunday matches. Eickhoff told DW that they are trying to promote the football club to other schools in the area and that soccer tournaments are planned.
Makes a difference
Many of the refugee players asked not to be interviewed to protect their identity. But one migrant - Khushed from Tajikistan - who has been in Germany for six months, told DW the club had helped him to feel more at home.
"My favorite hobby is football and I like to play every week. It's my first visit here and it's been very good. I like it!" he said, adding that he plans to play regularly.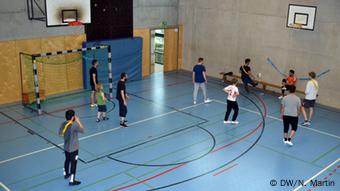 Organizers hope the soccer project will grow
Organizers of "Soccer Without Borders" were keen that the migrants don't remain isolated from the wider community, insisting that they are people who live in the city now. The pupils had a genuine interest in getting to know the newcomers, they added.
Cologne-based students Arian, Ole and David signed up for the football club after seeing a poster at school.
'I think it's a pretty nice idea to help integrate the migrants, and so they have something to do in their spare time," Arian told DW.
Ole added that he wanted "to have fun, and to play with refugees and involve them in our daily life. We had a good time with them, and I hope we can do it again."