Politicians from the far-right Alternative for Germany (AfD) will be welcome to attend services at the June 2019 congress of the Evangelical Church in Germany (EKD) in Dortmund. They will not, however, be invited to take part in podium talks or other discussion events, the EKD announced on Wednesday.
The ban on AfD speakers at the multiday Kirchentag congress is part of the struggle within German church organizations on how to deal with a party that has been criticized for dehumanizing and anti-democratic statements, among other things, in their role as politically independent institutions.
Read more: 6 facts about Catholic and Protestant influence in Germany
The EKD's executive committee cited the AfD's "fluid boundary on right-wing extremism and ties to anti-constitutional networks" in its decision, a church spokesperson said Wednesday. The spokesperson emphasized that no one was being invited or uninvited to the event based on their party membership, but that any person making racist or hateful statements would be uninvited.
In an interview with the German weekly Die Zeit, Hans Leyendecker, the president of the congress's executive committee, said the congress explicitly welcomed AfD sympathizers and voters — just not AfD politicians.
"The congress is about listening, but I don't want to listen to Mr. Gauland," Leyendecker said, referring to the leader of the AfD's parliamentary group. Alexander Gauland would be welcome at the event's church service, however.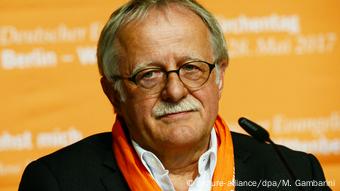 Leyendecker, the president of the Protestant congress, has no qualms about not inviting AfD politicians to take part
AfD won't be 'unwelcome guest'
The Protestant congress's decision to ban AfD speakers was slammed by the party's representative for church policy, Volker Münz.
In an official statement, Münz, himself a member of the EKD's synod within his constituency, described the ban as exclusionary and "a sign of (political) poverty" for the church, and accused it of betraying its political independence.
In the statement, which the AfD shared on Twitter, Münz also accused Leyendecker of political clientelism favoring the German Social Democrats (SPD): "This doesn't have anything to do with the 'church' anymore. Churchgoers will realize this."
Though Münz said he would have attended the congress, being there as an "unwelcome guest" was "out of the question."
"I would rather go to church, where I am welcomed as a Christian," he added in remarks to the German Protestant news agency, EPD.
Münz is a member of various Protestant Church councils
How churches deal with the AfD
Germany's official churches, both Protestant and Catholic, have struggled with what position to take vis-a-vis the AfD, which recently surged in polls to become the second-most popular political party, ahead of the SPD.
The EKD congress in May 2017 featured then-AfD politician Anette Schultner, head of Christians in the AfD, in a discussion event that led to criticism and protests. Schulter subsequently left the AfD in October, citing its radicalization.
For its part, the German Catholic Church banned AfD representatives from taking part in its 2016 congress. However, this year's congress in May saw the AfD's Münz take part in a podium discussion. The church cited the "democratic necessity" of including all the political parties currently represented in German parliament but argued that it had invited specific individuals, not party representatives.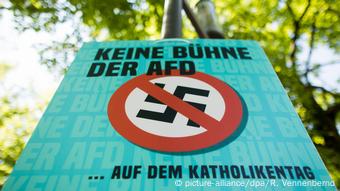 The Catholic Church's decision to invite AfD politicians to its 2018 congress led to protests
The EKD's Leyendecker expressed in his interview with Die Zeit that just because a party sat in parliament did not mean its representatives would be invited to the congress.
The Kirchentag takes place every other year, drawing hundreds of thousands of visitors to celebrate faith and to think and discuss present-day issues. According to its event page, its goal is "not to determine what is right or wrong, but to initiate open and active dialogue."
cmb/kms (EPD, KNA, dpa)
Each evening at 1830 UTC, DW's editors send out a selection of the day's hard news and quality feature journalism. You can sign up to receive it directly here.