The far-right nationalist Alternative for Germany (AfD)has continued its ongoing row with Germany's major churches ahead of the Christmas holidays.
AfD parliamentary group leader Alice Weidelon Thursday accused the churches of playing the same "infamous role" they had taken on during the Third Reich by ignoring the separation between church and state - a statement condemned as "grotesque" by at least one former AfD member.
"We know now that the official churches, whether Protestant or Catholic, are politicized through and through," Weidel also told Germany's weekly Focus magazine. Weidel made the comment in connection with her take on the churches' stance on refugee policy.
Weidel's statement was in response to comments made by Protestant Bishop Markus Dröge, who told the German Protestant church's annual assembly in May that AfD members who considered themselves Christian lacked credibility.
"I cannot imagine how one could credibly engage as a Christian in the AfD," he said. "I cannot engage as a Christian in a party that dramatizes fears, sows distrust, and preaches exclusion." Weidel responded that she could understand his statement "against the background of his worldview."
Churches vs. AfD
But Dröge's "worldview" is shared by other top church officials in Germany. The head of Germany's Catholic Church, Cardinal Reinhard Marx, made a similar point to the daily Nürnberger Nachrichten in January 2017, when he said that there were certain political "red lines" that Christians could not cross, such as "xenophobia, denigrating other religious communities, over-exalting one's own nation, racism, anti-Semitism, and indifference to poverty in the world."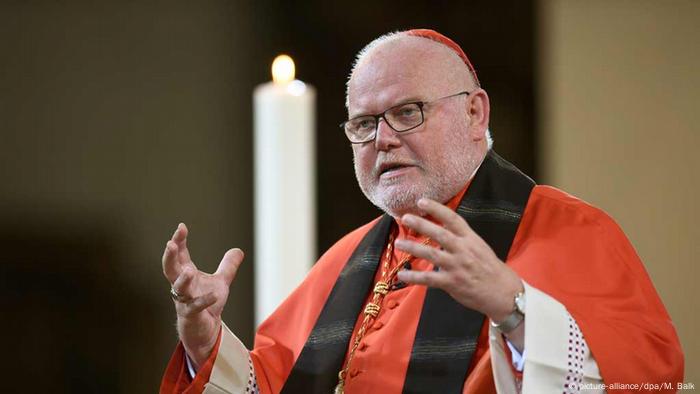 Cardinal Reinhard Marx said Christians should observe certain political 'red lines'
Both the Catholic and Protestant churches refused to go beyond a summary dismissal when asked to comment on Weidel's statement on Thursday. "We will not comment on Mrs. Weidel's polemics. We wish Mrs. Weidel a Christmas rich in light and insight," said Matthias Kopp, spokesman for the Catholic German Bishops' Conference (DBK), in an email to DW.
A spokesman for Germany's leading Protestant church organization EKD would only write: "We will not comment on this lapse. The holidays ahead are a good opportunity to collect one's thoughts. The same applies to Mrs. Weidel."
Anette Schultner, the former head of the AfD's Christian group who quit the party in October claiming that the party was shifting to its neo-Nazi fringes, also thought that being a Christian was becoming increasingly difficult in the AfD. "I'm not going to say there are no Christians left in the party, but I think as a Christian it will become more and more difficult to be in this party," said Schultner. "There are still people in the party who are alright but the development of the party is still difficult."
The last Christians?
Weidel went on to claim in her interview that the AfD was the "only Christian party that still exists" in Germany, and that Angela Merkel's Christian Democratic Union (CDU) had lost its religious foundations. "The C in the CDU has been driven ad absurdum. Christian values do not play a role there anymore," she said, whereas "with Christians in the AfD there is a very large and strong union of the faithful in the party."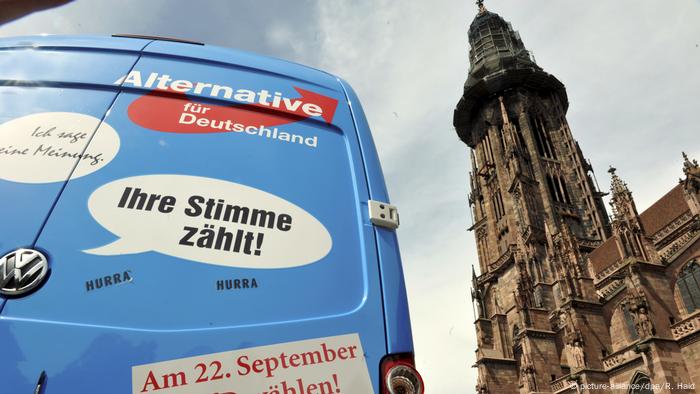 Many church leaders have criticized the AfD
Schultner, who joined the AfD's moderate splinter group the "Blue party," founded by Frauke Petry, pointed out that Weidel's claim directly contradicted an earlier statement by the other AfD leader Alexander Gauland last year, when he told Die Zeit newspaper, "We're not a Christian party. We're a German party that works to realize German interests."
"Mr. Gauland and Mrs. Weidel need to come to an agreement about their diametrically opposed understanding of the party," said Schultner.
As Schultner pointed out, Weidel's comparisons with the churches in Nazi Germany would have been seen as particularly offensive to the churches. "Though there are plenty of good reasons for criticism of parts of the church, a statement like that is grotesque and has nothing to do with any halfway serious criticism of the church," she said. "It is also highly inappropriate to put oneself in the tradition of National Socialist victims in this way."
Though many clergymen did speak out against Adolf Hitler's regime, the Vatican infamously signed a "concordat" with the German Reich in 1933 that required bishops to take an oath of loyalty to the German president. Many historians see the treaty as the first instance of the Catholic Church morally acquiescing with Nazi Germany.
In recent years, some churches have stood against Germany's deportation policy, taking advantage of church sanctuary laws to provide shelter to asylum seekers threatened with deportation - much to the annoyance of the Interior Ministry.