Speaking in the western Germany city of Völklingen on Monday, German President Joachim Gauck called on EU countries to keep open their internal borders.
Nearly 30 percent of EU citizens now live in bordered regions, Gauck said. He added that it was particularly in these regions that the "close-knit network of cross-border cooperation" makes the benefits of open borders significant.
"We want to maintain this freedom," the president said as he addressed around 180 diplomats who had been invited to Germany's Saarland state.
Decreasing refugee numbers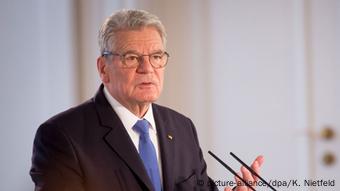 German President Joachim Gauck said the EU needs to "maintain the freedom" of open borders
In response to the huge influx of refugees to Europe last year, several European countries tightened their borders, or implemented stricter controls.
Just last month, Austria announced new refugee controls, along with plans to build a 370-meter-long (1,200-foot-long) fence at the Brenner Pass in the Alps to protect against a sudden migrant influx - much to the annoyance of its neighbor Italy and the EU.
Germany took in more than a million refugees last year, but the numbers of arrivals has slowed significantly in recent months.
Latest figures released by the German Federal Police on Monday showed that the number of refugees arriving in Germany remained low throughout April, with 5,485 asylum seekers traveling to Germany last month - an average of 183 a day. The figures mark a huge decrease since the beginning of the year, which saw the arrival of 64,700 refugees in January.
Debate over Schengen Zone controls
Gauck's appeal to Germany's fellow EU member states on Monday came just two days before the EU Commission was due to present new proposals to extend border controls within the Schengen Zone beyond the middle of May.
The EU Schengen area's 26 countries allow free travel across their borders without the need for passports. Some of the zone's member countries were given permission to temporarily reinstate border checks. That permission is due to expire on May 12.
According to the German Interior Ministry, a letter signed by Berlin - and supported by Austria, France, Belgium, Denmark and Sweden - was sent to the Commission on Monday, calling for a six-month extension of controls in the Schengen Zone.
Germany was the first country within the zone to introduce controls on September 13, 2015. Since then, German Interior Minister Thomas de Maiziere has repeatedly extended the controls.
In a statement released on Saturday, de Maiziere warned that despite the effective closing of the West Balkan route to refugees, EU states still needed to protect themselves from a possible new migrant influx through other routes.
kb/jm (Reuters, dpa)