Poland's Bronislaw Komorowski (pictured, center) and the German parliament dedicated an hour to the memory of the outbreak of World War II on September 1, 1939. President Komorowski said both countries should be proud of their reconciliation since the conflict. In particular, he lauded a new generation of Germans and Poles learning and working together 25 years after the fall of the Berlin Wall.
World War II began with Germany's invasion of Poland in 1939; days later, as Komorowski noted in his speech to the Bundestag, Soviet soldiers also marched into Poland from the east. Early in the Second World War, Nazi Germany and the Soviet Union were allies.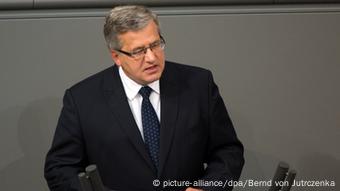 Komorowsky said Europeans were "united in the conviction that human rights are inalienable"
Prior to Komorowski's address, the president or speaker of German parliament, Norbert Lammert, described the conflict as "the most devastating war in history." Lammert also said that German-Polish reconciliation was remarkable considering Poland's hardships during the conflict.
"It must therefore be classed as a miracle that Poland and Germany aren't just neighbors, who trust each other, but rather friends, who like each other," Lammert said. Both Lammert and Komorowski also mentioned the Solidarnosc trade union movement in Communist Poland in the 1980s, which became a model for political protests in former Communist East Germany.
The two politicians know each other well; prior to becoming Polish president in 2010, Komorowski was Lammert's counterpart in Warsaw.
Chancellor Angela Merkel, President Joachim Gauck and Foreign Minister Frank-Walter Steinmeier also took part in Wednesday's ceremony in Berlin.
Gauck and Komorowsky together marked the outbreak of the Second World War on September 1 in the Polish city of Gdansk.
msh/es (AFP, dpa)