German politicians condemned the anti-refugee incidents in Saxony over the weekend saying, "We cannot allow that people who are looking for protection are put in danger or threatened," the Interior Ministry's parliamentary deputy secretary, Günter Krings, said on Wednesday.
Krings also called for "zero tolerance" and a crackdown on xenophobic acts by the state.
Leader of the Green party, Anton Hofreiter, drew more attention to an incident in Saxon town of Clausnitz last Thursday. A mob blocked a bus full of refugees and shouted threats. Police were also accused of mishandling a young refugee. Two days later, a planned refugee shelter caught fire in Bautzen. Onlookers cheered and blocked fire trucks from extinguishing the blaze, police said.
"We not only have a problem with racism, but also with our security authorities," Hofreiter said.
The administration in Saxony and the governing Christian Democratic Union (CDU) also needed to be held responsible for "25 years of looking away." Hofreiter also called for "an uprising of decent people."
Left party politician Dietmar Barsch called the events "scandalous" and Social Democrat Uli Grötsch noted that every sixth attack against migrants occurred in Saxony, home to the anti-immigrant movement Patriotic Europeans against the Islamization of the West (PEGIDA).
"Does anyone still think this is a coincidence?" Grötsch asked.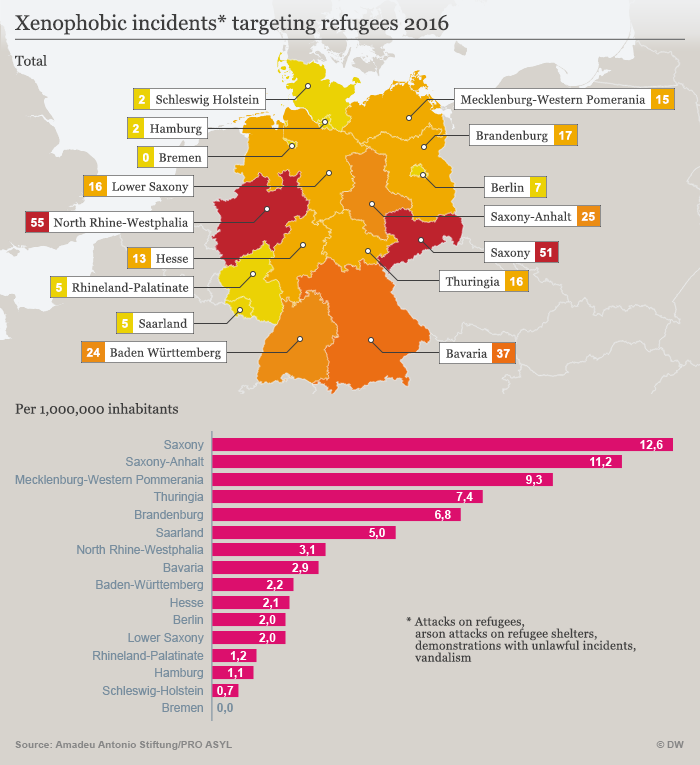 Merkel, ministers skip discussion
Chancellor Angela Merkel and her ministers were absent from Wednesday's discussion in the Bundestag, the lower house of German parliament, and the government was represented almost entirely by deputy secretaries.
Günter Baumann, the CDU's representative from Saxony, said the government needed to target individual offenders, rather than making the whole state responsible for the weekend's events.
"A frontal attack against everyone from Saxony does not help and is completely unjust," he said. "The pictures we saw in the last days are not our Saxony. ... Saxony is not right-wing extremist and also not anti-foreigner."
Some 1.1 million refugees fleeing conflict and poverty in the Middle East and Africa reached Germany last year. Public opinion was initially welcoming, but has changed track following charges of sexual assaults by migrants in Cologne and other German cities on New Year's Eve.
According to preliminary data from the German Interior Ministry, the number of anti-foreigner crimes in the country doubled in 2015, when 4,183 cases were registered. There were 2,207 xenophobic crimes were registered in 2014.
mg/sms (EPD, dpa)