In Ankara on Monday Foreign Minister Sigmar Gabriel is to press officials to allow German lawmakers to visit troops stationed at a Turkish air base. It is an issue that has added to already tense relations between the two NATO allies.
Gabriel told the "Bild am Sonntag" newspaper that "if Turkey cannot or does not want to [allow the visit] for domestic political reasons," then the two sides should find a civil way to end the stationing of troops at Incirlik air base.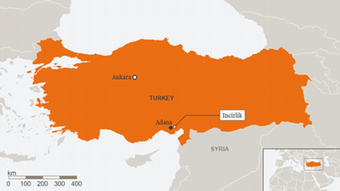 Gabriel said "German lawmakers must be able to visit soldiers - and not just once but anytime."
Relations between the two countries took another nosedive after Turkey recently blocked German lawmakers from visiting some 250 troops stationed at Incirlik as part of the international coalition against the so-called "Islamic State" (IS.)
Read more: Turkey's Incirlik air base: What you need to know
Moving troops 'no problem'
The Turkish action came in response to Germany's decision to grant asylum to diplomats and military officers Ankara alleges were involved in last year's failed coup attempt.
Germany has considered pulling its troops, Tornado reconnaissance aircraft and refueling tanker out of Incirlik to an alternative base in Jordan; issues with which Gabriel said he had "absolutely no problem."
Gabriel is to meet with his Turkish counterpart Mevlut Cavusoglu.
Ahead of Gabriel's visit, Turkish Prime Minister Binali Yildirim said Turkey wanted to repair relations but "Germany should move accordingly."
Read more: Germany and Turkey - A Difficult Relationship
Tolerating the opposition?
Turkey has accused Germany of tolerating the opposition movement headed by US-based cleric Fethullah Gulen, which Ankara blames for the coup attempt, and the outlawed Kurdistan Workers' Party (PKK).
Tens of thousands of people in Turkey have been arrested or dismissed in a post-coup purge targeting alleged members of the Gulen movement. Germany and the EU have voiced concerns over the deterioration of democracy and human rights as the purge extends to target all opposition and critical voices.
Gabriel has recognized Turkey's concerns over the PKK, which is also listed as a terrorist organization by Germany and the EU.
"The PKK is also an outlawed organization in Germany because it has been involved in running protection rackets and dealing in weapons and drugs," Gabriel said. "It is definitely also in our interests to dry up their financial resources and not allow them any room to operate in Germany."
Armenian genocide resolution
Relations between Ankara and Berlin started to go off track early last year after the German parliament passed a resolution naming the deaths of 1.5 million Armenians from 1915 a genocide. In response, Turkey blocked lawmakers from visiting Incirlik, only later to allow the trip.
In the lead up to April's constitutional referendum in Turkey, relations hit another low point when Turkish President Recep Tayyip Erdogan accused Germany and other European countries of "Nazi-like" practices for blocking Turkish ministers from campaigning.
Journalists in jail
In another row, two Turkish-German journalists, including "Die Welt" correspondent Deniz Yucel, have been in pre-trail detention on terrorism charges.
Adding to tensions, German prosecutors are investigating Turkish imams for spying on alleged Gulen followers in Germany.
Relations with Turkey have also become a political football ahead of national elections in Germany in September.
cw/jm (AFP, dpa, Reuters)