A year-long row over the Turkish air base at Incirlik, where German troops have been deployed as part of the US-led coalition against Islamic State since January 2016, has ever increasing potential to realign German-Turkish relations.
Last week German Chancellor Angela Merkel threatened to withdraw German soldiers from Incirlik after Turkey prevented German lawmakers from visiting troops stationed there. Turkey's move came in response to Berlin's decision to grant asylum to Turkish military personnel accused of participating in a failed coup to overthrow Turkish President Recep Tayyip Erdogan.
There are currently 268 German troops as well as six Tornado jets and one Airbus A 310 MRTT (Multi Role Tanker Transport) stationed in Incirlik.
Read: Turkey's Incirlik air base: what you need to know
US geo-political expert Marco Vicenzino, founder and director of the Washington-based Global Strategy Project, told DW that a German decision to withdraw troops could have a "serious impact on the esprit de corps within NATO."
That is brittle enough already. At last week's summit in Brussels, US President Donald Trump, who once dismissed NATO as obsolete, accused European allies of not spending enough on defense. This added to growing uncertainity at NATO headquarters about the alliance's future policies during Trump's US presidency.
"Obviously, the alliance and many members have come under criticism in recent times, particularly by the Trump Adminstration. Another development, such as a German withdrawal from Incirlik is not helpful in these volatile times," added Vicenzino.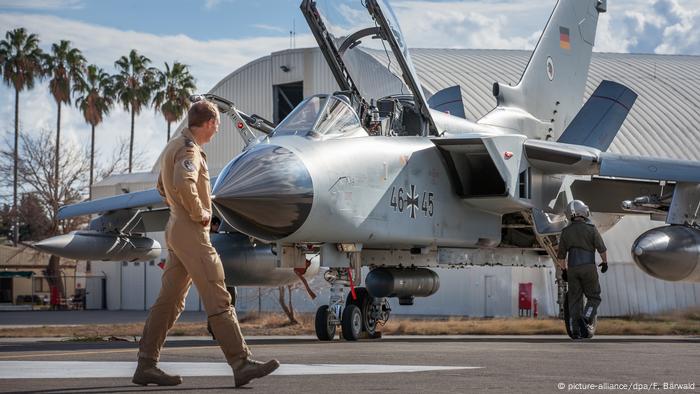 German troops have been at Incirlik since January 2016
Commenting on a possible withdrawal, German Major Rayk Hähnlein, defense expert at the Berlin-based German Institute for International and Security Affairs, agreed that NATO members need to start pulling in the same direction.
He suggested that Berlin should keep its soldiers at the NATO air base in the Turkish city of Konya at the very least. "From my perspective, the German soldiers stationed in Konya with the surveillance AWACS NATO Air Wing should not be withdrawn, because that would be a wrong signal to NATO, which needs coherence at the moment more than anything else," Hähnlein told DW.
Bilateral relations to be affected the most
The first cracks in German-Turkish relations appeared last year when the German parliament approved a motion to label the massacre of Armenians by Ottoman forces a century ago as genocide. Criticism of President Erdogan's crackdown following the attempted coup last July added further tension. A withdrawal would only serve to worsen fragile ties.
Read: Not the time for kicking and stomping over Incirlik
"As far as I can see, NATO tries to keep that problem away from itself and declares it a bilateral problem," Hähnlein said.
Other NATO allies are also at odds with the Turkish government over internal policy. Recent developments include a crackdown on opponents, targeting journalists, academics, soldiers and judges, resulting in tens of thousands of arrests.
It was reported this week that some NATO members, Germany included, may block next year's summit in Turkey so as not to lend legitimacy to Erdogan's regime. But experts dismissed claims that NATO could isolate Turkey.
Read: Germany seeks to block NATO summit in Turkey: report
"Historically, Turkey has been - and remains - an extremely important and critical member of the alliance," Marco Vicenzino told DW. "It is a signal of displeasure with specific policies of the Erdogan government. NATO is a security alliance but also an alliance of democratic partners. Erdogan's policies, particularly in recent times, have not reflected this crucial democratic element of the alliance."
Hähnlein agrees that everyone within NATO knows that Turkey is "vital for the alliance" and one of the most important member states. "But of course, one can question, if it is the right signal, if Turkey hosts a NATO summit under the current circumstances."
Is a resolution in sight?
The Incirlik issue is expected to be discussed on Monday when German Foreign Minister Sigmar Gabriel is scheduled to meet with his Turkish conterpart Mevlut Cavusoglu in Turkey.
Hähnlein said it was "very difficult" to make a prediction about a possible outcome of the meeting that some media have labeled a last-ditch effort.
"At the moment, I'm more skeptical than optimistic, that an agreement will be reached," said Hähnlein.
Read: Germany likely to pull troops out of Incirlik air base
However, Huseyin Bagci, a Turkish professor of international relations at Ankara's Middle East Technical University, is more hopeful.
"As far as I see, the two foreign ministers will sit and talk and eventually reach a compromise," Bagci told DW.
"The Incirlik crisis has to be overcome. But it can only be resolved in the way that Turkey desires. It is impossible to resolve the crisis in the way that the Germans desire. Because Incirlik is a Turkish air base, not a NATO one."