According to numerous reports in German media, the soldiers in question and their families are Turkish nationals with diplomatic passports who had previously been stationed at NATO facilities in Germany. The military employees had filed for asylum in Germany after facing persecution following the failed coup of July 15, 2016.
The regional state broadcasters WDR and NDR as well as the daily newspaper "Süddeutsche Zeitung" reported that, according to the Interior Ministry, a total of 414 asylum applications had been filed by Turkish soldiers, diplomats, judges and other government officials living in Germany. That number reportedly includes family members.
The Interior Ministry also divulged that a total of 262 of those applications had come Turkish officials holding diplomatic passports, but it did not say how many of the requests had come directly from military personnel stationed at NATO bases.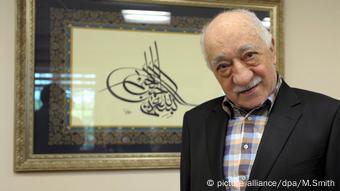 Turkey accuses thousands of officials of supporting Gülen, who they allege instigated the July 15, 2016 failed coup
There were no indications on how many of the initial applications had been granted; nor was there any direct comment from the actual government authority in charge of processing asylum applications, the Federal Office for Migration and Refugees (BAMF).
Various media outlets, however, referred to sources from within BAMF as confirming the granting of the asylum applications in numerous cases.
Turkish authorities have launched a massive purge after the coup attempt, which saw the government dismiss thousands of alleged military supporters of US-based cleric Fethullah Gülen, whom officials consider to be the mastermind behind the failed putsch. Gülen and his followers deny these allegations. Last week alone, Turkey fired over 100 judges and prosecutors, and the weekend before, it dismissed nearly 4,000 public officials under the ongoing state of emergency. Over 9,100 police were also suspended on April 26.
According to the media reports, BAMF officials waited for the outcome of the controversial referendum on changes to the Turkish constitution to take place before making a final decision on the asylum cases. Bamf, however, denied that there was any kind of correlation along those lines.
The result of the referendum narrowly gave Turkish President Recep Tayyip Erdogan new powers consolidated under a presidential system. Critics fear that Erdogan might abuse the new system to further clamp down on dissident voices.
A fraught relationship
Granting asylum to Turkish citizens in Germany could further endanger the already strained relationship between the countries.
In January, Turkish Defense Minister Fikri Isik publicly demanded that Germany reject all asylum applications submitted by Turkish officials, saying those seeking safe haven were accused of being part of a terror organization responsible for the failed coup, hinting less than subtly at self-exiled Gülen and his so-called Hizmet (Service) movement.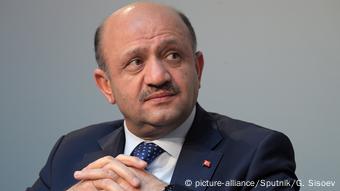 Turkish Defense Minister Fikri Isik wants Germany to reject the asylum cases
Ties between Germany and Turkey plunged during the referendum campaign, with several Turkish ministers coming to Germany and heavily campaigning in favor of passing the plebiscite.
The controversial visits highlighted differences in values among Germany's 2 million-strong Turkish-born population, an issue that is increasingly becoming a political bargaining tool in Germany during this election year.
Relations between the two countries took a further hit with the arrest of a German-Turkish journalist working for Die Welt daily; Deniz Yucel was jailed in February on terror charges and is currently awaiting trial. German Chancellor Angela Merkel said Ankara's arrest and treatment of Yucel was "incompatible with a constitutional state." Several other dual German-Turkish nationals also remain in detention in Turkey.
With more than 7,700 asylum applications received from Turkish nationals in total, BAMF seems to have its work cut out for it. The decision on granting asylum to the Turkish NATO officials could, however, set a precedent not just in Germany, but also elsewhere in the EU.
Numerous Turkish military personnel formerly deployed to NATO headquarters in Brussels have filed for asylum in the Belgian capital. They have not yet received word on the outcome of their cases.