A day after Turkey blocked German parliamentarians from visiting Bundeswehr troops at Incirlik Air Base, Turkish Prime Minister Binali Yildirim told Berlin it has a choice to make: to grant asylum to former NATO officials the Turkish government says helped plan last year's coup or to "turn its face to the Turkish republic".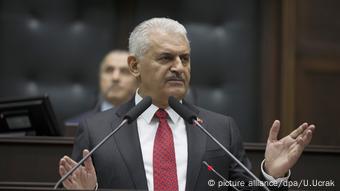 Turkish PM Binali Yildirim warns Berlin against support for former NATO officers seeking asylum in Germany
In a speech to the Turkish parliament, Yildirim said relations are "strained again" due to the German government's decision last week to allow former Turkish officials now on the government's "purge" lists to stay in Germany, acknowledging they would not be able to get a fair trial in Turkey at present.
The move enraged Turkish President Recep Tayyip Erdogan. He responded by rejecting access to the southern air base for a delegation of German lawmakers seeking to visit the roughly 250 military personnel stationed there who fly air sorties in support of the US-led coalition fighting Islamic State (ISIS). German parliamentarians werealso blocked from the base last year after the legislature passed a resolution declaring the 1915 massacre of Armenians by Ottoman forces was a "genocide", which infuriated the Turks.
Chancellor Angela Merkel has warned that if the blockade continues, she will consider moving the squadron of Tornados out of Turkey. "We will continue to talk with Turkey, but in parallel we will have to explore other ways of fulfilling our mandate," Merkel said Monday. "That means looking at alternatives to Incirlik, and one alternative among others is Jordan," she said.
A NATO spokesperson told DW that the alliance would have no reaction to the dispute as it does not concern alliance activities. But that doesn't mean there won't be implications for NATO, experts say.
NATO not immune
Director of the German Marshall Fund's Brussels office, Ian Lesser, believes the stand-off represents a "general crisis of confidence and cooperation in Turkey's foreign policy relationship with Western partners." Lesser says that won't remain limited to this dispute over access to Incirlik.
"Inevitably, it also affects the outlook for cooperation in a NATO context, on other fronts, and underscores the tendency for Ankara to press bilateral differences in the alliance," he told DW. "Taken together with Turkey's decision to explore the purchase of Russian S-400 missiles, and large unresolved issues with Washington in Syria, it suggests a potential crisis in security cooperation with Turkey. Unchecked, it could spell deepening strategic estrangement, just as the security order around Turkey has collapsed."
Former European Union ambassador to Turkey Marc Pierini agrees it's difficult to gloss over the glitch. "It degrades the atmospherics and the alchemy between the second largest conventional army in NATO, Turkey, and the others," he says, even if the problem is centered on the deployment to the US-led "coalition of the willing".
Pierini says the other factor is German politics. "Foreign operations of the Bundeswehr are very rare and this comes in the middle of a huge debate about whether to re-engage in foreign operations," he explained, saying this question has taken on added significance due to unclear signals from the US about its support for Europe.
German participation depends on parliament
Therefore, Pierini underscores, "It is all the more important to have this debate in Germany and it's all the more important for German politicians to go visit and see how it goes because it's part of the debate. Then suddenly an ally in NATO -- a member of the Council of Europe, a member of the OSCE member and a candidate to the EU -- says 'no, you are not coming'."
Erdogan's consolidation of authority in the recent referendum has made Turkey a particularly difficult "ally", says the former EU ambassador. The more Erdogan can ramp up the nationalist narrative - including the recent episodes of calling European leaders "Nazi remnants" - the better it is for him. "When you have a leadership clinging to power through non-democratic means, it's very difficult for a democratic country to fight this."
While unsure of how serious Merkel is about moving the German squadron out of Incirlik - which he says is a far superior base to the alternative being surveyed in Jordan - he doesn't expect the rhetoric to continue escalating between the two countries. Merkel will try to tamp down the tension ahead of September elections, Pierini expects, and that suits the other NATO allies fine too, as there's "immense fatigue with Turkish behavior".
International leaders have "chosen a path of almost complete silence," which he predicts will continue at least through the NATO leaders' upcoming meeting, the G7 talks and the German elections in fall 2017. Pierini believes "they'll save any decisions for later."