Gabriel told Germany's Handelsblatt business newspaper that what he termed a "Trumpization" of interactions in the already crisis-shaken Middle East region was extremely dangerous.
"US President Trump's recent giant military contracts with Gulf monarchies raise the risk of a new spiral in arms sales," Gabriel warned in the interview to be published Wednesday.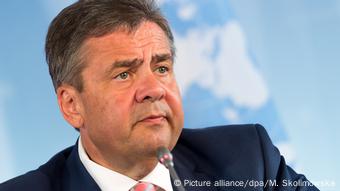 Foreign Minister Gabriel is to meet his Saudi counterpart in Berlin
His remarks came ahead of Saudi Foreign Minister Abdel al-Jubeir's visit to Berlin on Wednesday. Gabriel said it seemed the intention was "to more or less completely isolate Qatar and affect it existentially."
"That is the completely wrong policy and certainly not the policy of Germany," Gabriel said.
Germany is part of a six-nation group had pushed for the 2015 nuclear de-escalation deal with Iran - Saudi Arabia's regional rival - to avert such a Middle East arms spiral, Gabriel added.
"A deep conflict between neighbors is actually the last thing we need," Gabriel warned.
Trump takes credit
President Donald Trump on Tuesday wrote on Twitter that his recent trip was "already paying off," and claimed that a speech he gave in Saudi Arabia had prompted Arab powers to isolate Qatar over its alleged backing of Islamist extremism.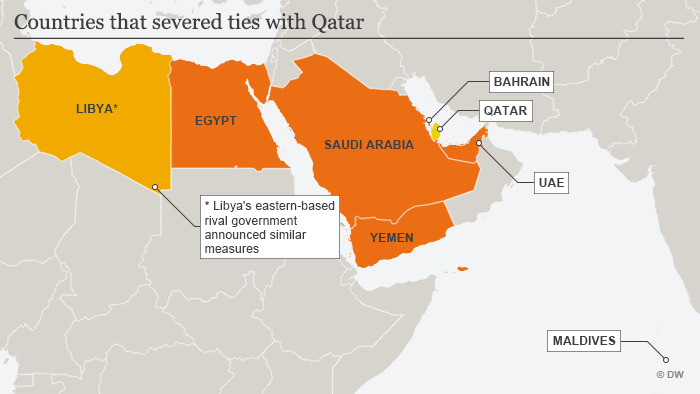 "Perhaps this will be the beginning of the end of the horror of terrorism," Trump wrote.
By contrast, the Pentagon on Tuesday renewed praise for Qatar for hosting the largest US air base in the Middle East. "I consider them a host to our very important base at al Udeid," said Pentagon spokesman Navy Captain Jeff Davies. More than 11,000 US and coalition forces are deployed or assigned to al Udeid Air Base, from which more than 100 aircraft operate.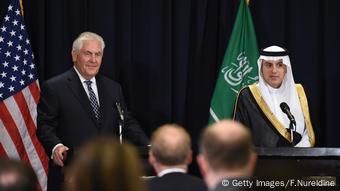 US Secretary of State Rex Tillerson with his Saudi counterpart Adel al-Jubeir
"We continue to be grateful to the Qataris for their longstanding support for our presence and their enduring commitment to regional security," Davis said. He added that the United States had no plans to alter its presence in Qatar.
Saudi comments in Paris
Visiting Paris on Tuesday, Saudi minister Adel al-Jubeir said energy-rich Qatar "has to choose whether it must move in one direction or another direction." He demanded Doha end support for the Palestinian militant group Hamas and the Muslim Brotherhood.
The cut in ties pits Saudi Arabia, the United Arab Emirates, Egypt and Bahrain against Qatar - the world's biggest producer of liquefied natural gas. On Tuesday, Jordan said it was reducing its level of diplomatic representation with Qatar and canceling licenses of the Doha-based Al Jazeera television office in the country
Aviation links have been suspended and regional ports closed to Qatari ships as anxious residents started stockpiling food.
ipj/jm (AP, Reuters, AFP)