The Qatari government agreed to postpone a speech to its citizens in order to prioritize Kuwaiti-led mediation efforts, Qatar's foreign minister said on Tuesday.
Saudi Arabia, Egypt, the United Arab Emirates (UAE) and Bahrain severed diplomatic ties with Qatar on Monday, accusing the small but wealthy Gulf state of supporting extremist activities.
Yemen, Libya's eastern government, and the Maldives shortly followed suit.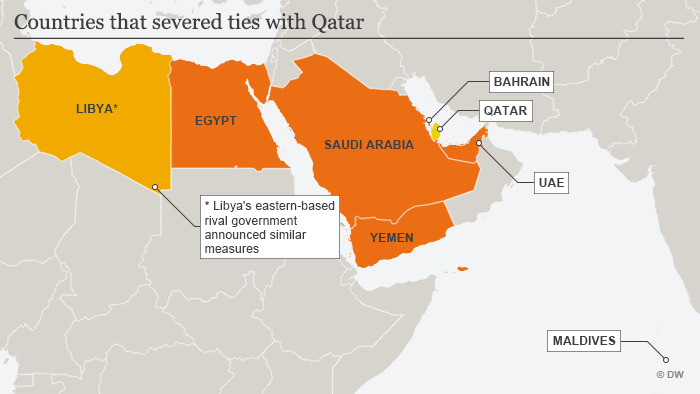 Doha now wants to allow Kuwaiti leader Sheikh Sabah Al-Ahmad Al-Jaber al-Sabah the chance to "proceed and communicate with the parties to the crisis and to try to contain the issue," Qatari Foreign Minister Sheikh Mohammed bin Abdulrahman al-Thani said in an interview with the Qatar-based media broadcaster Al-Jazeera.
Qatar "believes such differences between sister countries must be resolved through dialogue," Sheikh Mohammed added in his remarks.
The Kuwaiti and Qatari rulers spoke with one another via phone on Monday evening.
Steven Metzmaker, an American graduate student currently in Doha for an internship, told DW that Qataris were responding optimistically to the fledging mentions of mediation. "They trust other countries will get involved as the mediators, such as Kuwait and Oman," he said.
On Tuesday afternoon, Kuwait's state news agency reported Sheikh Sabah had headed to Jeddah, Saudi Arabia, where he was to meet with Saudi King Salman in an attempt to mediate the Gulf region's diplomatic dispute.
Doha has denied the terror allegations, calling them "a campaign of lies that have reached the point of complete fabrication."
The spiraling situation has plunged the Gulf region, currently struggling with a civil war in Yemen and inflamed antagonism between Iran and Saudi Arabia, into further instability.
Meanwhile, Turkish President Recep Tayyip Erdogan phoned up Qatar's Emir Sheikh Tamim bin Hamad Al-Thani, as well as Russian President Vladimir Putin and leaders in Kuwait and Saudi Arabia, to discuss ways to ease tension. The Sudanese government in Khartoum also offered to start "reconciliation" talks between Qatar and the opposing nations.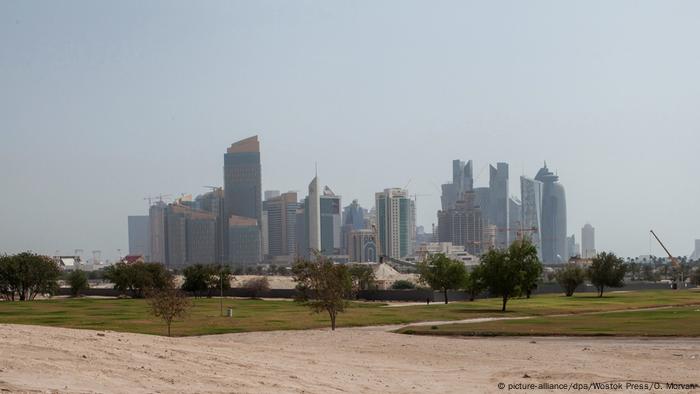 Nearly all of Qatar's inhabitants live in the capital of Doha
Mostly calm despite fears of food shortages
Qatar said it would not retaliate against the measures imposed against it, which include the suspension of all land, sea, and air transport; the ejection of its diplomats in the affected Gulf nations; and the order for all Qatari citizens living in those same nations to depart within 14 days.
Read: Qatar faces allegations that it supports the Muslim Brotherhood
However, Qatar Airways canceled flights to Saudi Arabia, UAE, Egypt, and Bahrain one day after those nations suspended flights to and from Qatar or, in the case of Egypt, blocked airspace to all Qatari air traffic.
Read: Saudi Arabia revokes Qatar Airways' operating license
Within Qatar, the sudden measures surprised the wealthy country's approximately 2.6 million inhabitants - the overwhelming majority of whom are foreign workers - but did not overly rattle them.
Metzmaker told DW "there was some panic due to social media and news sources in regards to food" since residents are aware that much of Qatar's food is imported through the now-closed land border with Saudi Arabia.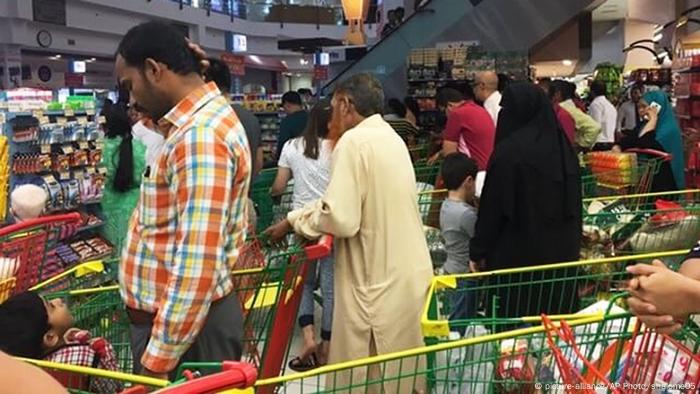 Qataris stocked up on food and water at grocery stores
Metzmaker described going to Carrefour grocery store at 4 p.m. local time on Monday and seeing checkout lines of 30 to 40 people, who often had "determined and also panicked look[s]" on their faces. Grocery charts were piled with goods, he said, and "every checkout counter was operating the conveyor belts" which were "overheating, making them unusable."
The American also pointed out that the fears of food shortages came during Ramadan, the Islamic holiday during which Muslims fast during daylight hours.
But in Metzmaker's opinion, Qataris generally took the news in stride. "They seem quite used to this type of diplomatic pressure and tension," Metzmaker said. Though he is living in Doha's Education City, an international learning and research campus located at the edge of the capital, he described how televisions in the Souq Waqif, a commercial going-out area in Doha's center, were playing "what they usually play. That is random shows, not news."
It is not the first time that such a diplomatic escalation has occurred between Qatar and its neighbors. In 2014, Saudi Arabia, Bahrain and the UAE withdrew their diplomatic teams from Doha on similar allegations of Doha's support for militant activity.