United Nations Under-Secretary-General for Humanitarian Affairs and Emergency Relief Coordinator Stephen O'Brien told the UN Security Council on Tuesday that the civil war, cholera outbreak and widespread hunger in Yemen could lead to the collapse of the country.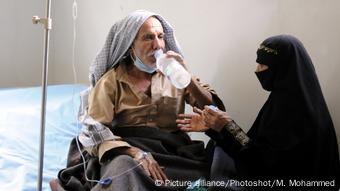 A man suffering from cholera receiving treatment in Sanaa
O'Brien warned the conflict was heading toward "a total social, economic, and institutional collapse" and demanded the Security Council end its inaction in the area.
"The people of Yemen are being subjected to deprivation, disease and death as the world watches," O'Brien told the Council.
Yemen, located on the southern tip of the Arabian Peninsula, has been engulfed in civil war since 2014.Over the past two years, fighting between forces loyal to the internationally recognised president, backed by a Saudi-led coalition, and Shia Houthi rebels has killed over 10,000 people and displaced more than three million.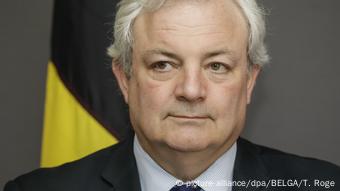 UN coordinator Stephen O'Brien
On top of the violence, O'Brien said more than 17 million people desperately need food, including 6.8 million who are "one step away from famine." Cholera has claimed about 500 lives in the country, and there are more than 55,000 suspected cases of the disease. The UN expects another 150,000 cases of the illness in the country in the next six months.
A group of 22 international and Yemeni humanitarian and human rights organizations, including Save the Children and Oxfam, also called on the Security Council to work towards a cease-fire in the country.
Yemen President Abd-Rabbu Mansour Hadi has threatened that his forces, which oppose the Houthis that currently control the capital of Sanaa, will attack the port city of Hodeidah unless the rebels give up Hodeidah to neutral observers. Hodeidah is where much of Yemen's food and humanitarian aid enters.
Mediated talks
Yemeni Foreign Minister Abdel-Malek al-Mekhlafi was reported to have been in Oman, discussing ways to bridge gaps with the Houthis.
UN envoy for Yemen, Ismael Ould Cheikh Ahmed also reported to the Security Council on Tuesday after talks between the warring parties. Neither side has been open to compromise he said. "The reluctance of the key parties to embrace the concessions needed for peace, or even discuss them, remains extremely troubling," he said. "Yemenis are paying a price for their needless delay."
kbd/jm (AP, dpa, Reuters)